Never did one before...have a half hour to spare so here goes...
Teams
: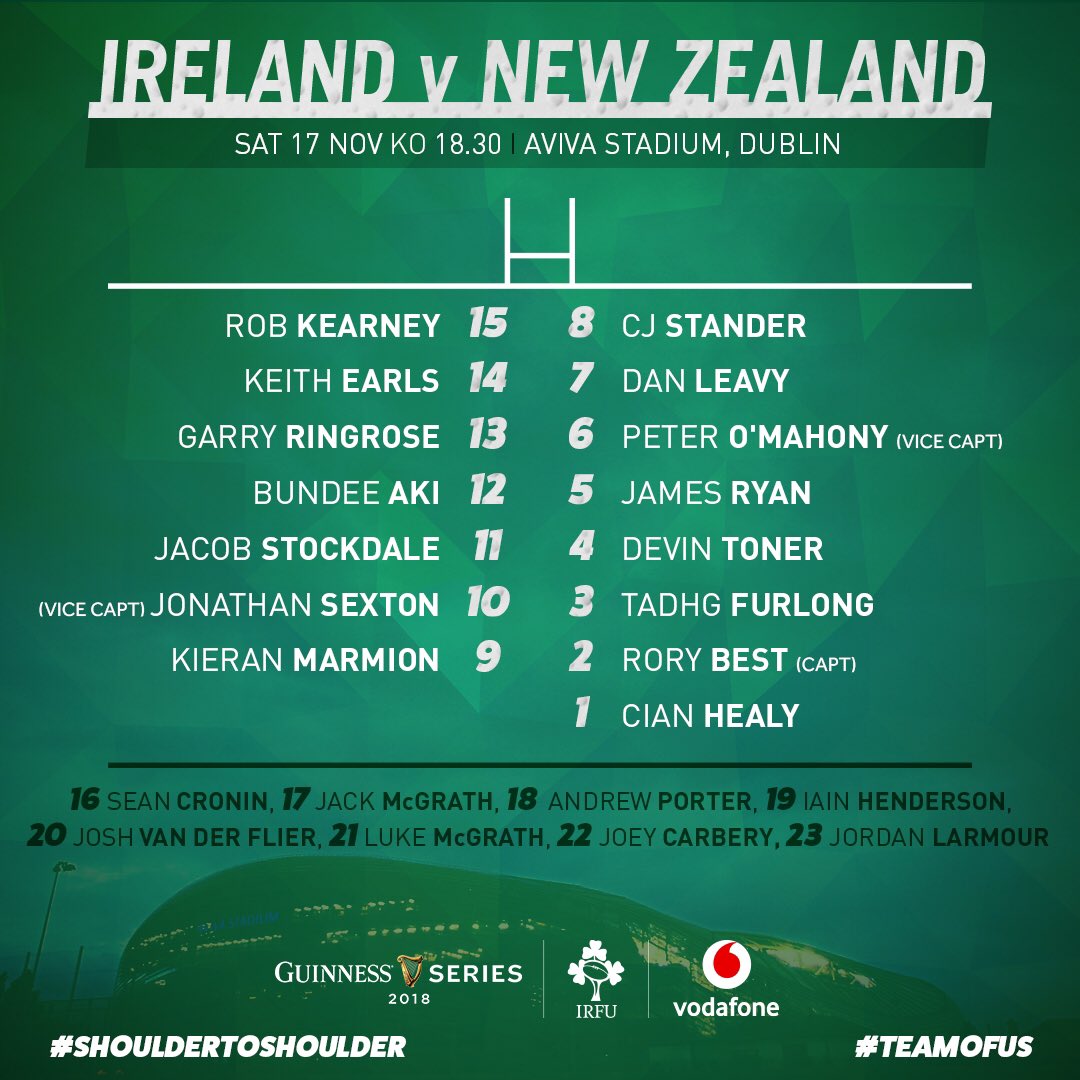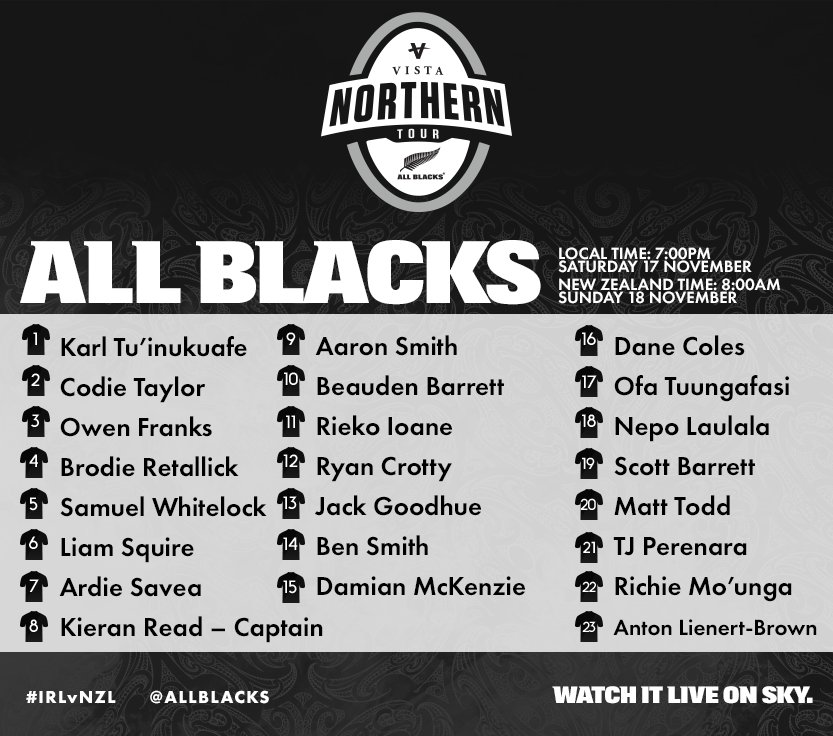 Personally, I've been looking forward to today since the final whistle was blown in the same fixture on the 19th of November 2016.
That was a tough day out. I had the best seat I've ever had at the Aviva, sitting immediately behind the Irish subs bench. But Christ, it was like watching a war. Definitely the most violent game I've ever watched.
New rules introduced since then mean that NZ can't approach this game in the same manner as they did that day.
I was toying with the idea of forensically going into the individual battles that will occur later, but I kinda feel that the way the game is played nowadays, that this has less relevance than before. What's more pertinent I feel is the psychology going on in both camps.
Mind games...or lack of?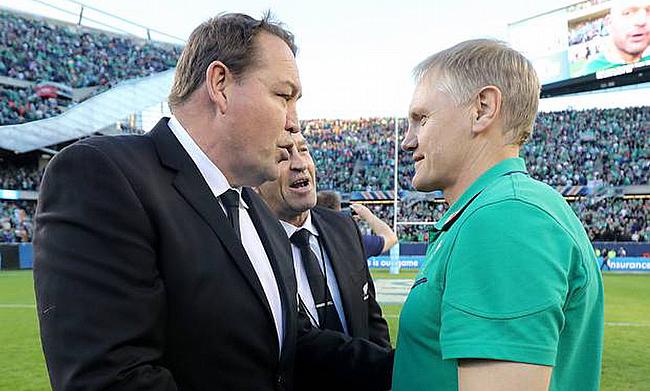 Neither coach can be accused of psychological warfare in the lead up to this test. Perhaps Hansen dipped his toe in that water with the references last week to how he expected Conor Murray to start, but that's as close as we've got.
We know how Joe avoids such encounters like the plague, so no shock that he hasn't come out with anything inflammatory this week.
For me, it's the unsaid stuff that's fascinating. Is this New Zealand's biggest test of the year? I would say clearly not seeing as they've lost at home to the Boks, and barely got out of jail in the return fixture. Similarly had a very close call in Twickenham last week.
However, my guess is that this fixture has been on Steve Hansen's radar for quite a while now. As it has been on Schmidt's.
In this fixture 2 years ago (the Aviva one), there was a clear and deliberate "beat them up" tactic deployed by the ABs in order to reinstate their top dog status. This is not an option for them today.
I think they adopted a "win at any cost" approach that day. They had to. They were fearful of what a 2nd consecutive defeat to Ireland would create/destroy.
I think they're nervous now. (or at least as nervous as the ABs ever get!) I think they're as vulnerable as they've ever been. (which is only slightly!)
I think that this is borne out of the acknowledgement of Ireland's new standard of rugby.
We're a tough team to break down, we've great depth in almost every position on the pitch, and if we lose games, it's by small margins.
But they're the All Blacks. Look through that team and those names roll off the tongue of even a casual rugby fan. Scary. Sure.
But whereas we might not be "scary", we're infuriatingly covetous of that ball. Tonight will be no different.
I think we have the psychological edge here.
I typed "Ireland v New Zealand" into google images and one of the first images was the one of Conor Murray celebrating Henshaw's try in Chicago.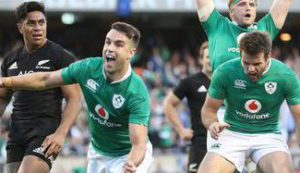 Fitting enough given that those 2 are arguably our biggest absentees today. It's been widely said that Murray is a huge loss. I think it's been a little over stated. No doubting Murray's world class, but Marmoin has been trusted by Joe for many years now to step in when required, and he (Marmion) has rarely disappointed. A different player sure, but brings a good standard of SH play and is a terrific defender.
Henshaw is a loss too of course, but a centre pairing of Aki and Ringrose is pretty formidable. Both are in the form of their lives and I expect an outstanding contribution from both.
Set pieces will make or break us. NZ are not as dependant on these as we are, and that for me is the main reason they are 7 point favourites with the bookies. That's about right imo.
This could be the game of the year. 2 titans of this magnificent sport going toe to toe.
The 7.00pm kick off (I don't ever remember as late a kick off in the Aviva before?) is only going to mean that the crowd is louder, more raucous and enthusiastic than they might have been anyway, (an extra drink or two on board than normal) and should be a proper cauldron.
It's going to be epic. Enjoy it everyone!
Edit: forgot to include my prediction :
Ireland by 4.