On behalf of SEA-C:
Quote:
Originally Posted by SEA-C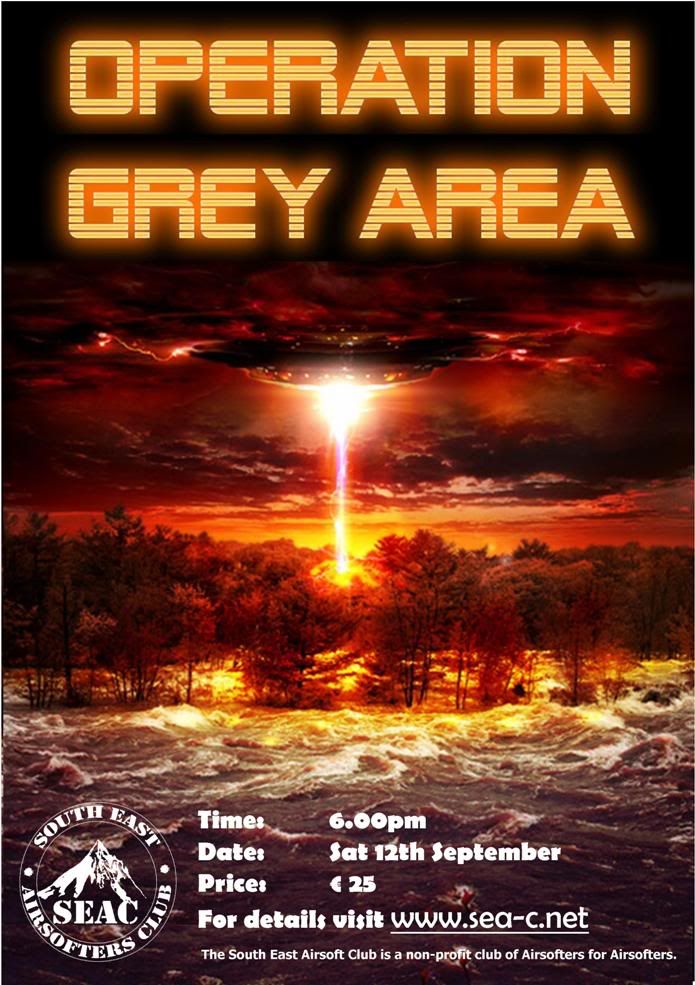 Date:
Saturday 12th & Sunday 13th September
Times:
Saturday Operations
Sign in - 4.30pm - 5.30pm
Games - 6.00 pm to 3.00 am
Sunday Operations
Sign in - 9.30am - 10.15am
Games - 10.30 am to 5.00 pm
Price:
Members
€ 20.00 for the whole weekend.
Non-Members / Walk-ons
Saturday Only - € 25.00
Sunday Only - € 20.00
Close Encounters Package / Saturday & Sunday - € 50.00
Requirements
Everybody
Torch, Food/Drink, Change of Clothes, Helmet/Head Protection, Approved Safety Eyewear/Goggles, Under 18's must wear Full Face Protection. Camping gear if you're staying overnight. Spare batteries, Bio BB's (On sale at the site), good pair of boots. Wet weather gear could also come in very handy.
US Special Forces Specific
US Woodland / British DPM / Tigerstripe / Multicam load-out
Green Glow Stick
Eastern Special Forces Specific
Flecktarn / Digital Camo / Russian / Chinese load-out
Red Glow Stick
Greys Specific (Numbers Limited)
Blue Glow Stick
Tracer Unit
on AEG
Green / Orange Bio tracers.
Can be mixed with non-tracers to keep the old cost down
PS: Specific Loadouts are not strictly necessary - Bring what you Got
More Details to follow