Man using billboard to avoid emigration!
Unemployed for almost a year and on the brink of emigrating, a Galway man has employed an innovative strategy to find a job!
The NUI Galway graduate returned from a year working in Australia last August and since then has applied for more than 100 jobs, but without success.
He says he does not want to leave Ireland again and would prefer to stay here to develop his career, but he says that if he does not get a job by the end of June, he will be forced to emigrate.
http://www.rte.ie/news/2011/0530/joblesspaddy.html
I dont know if this is right place to put the thread,if wrong place please move to right one thanks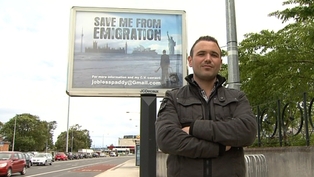 It is a shame and see how they are being forced out.If this doesnt open eyes nothing will to go this far to find a job after all his turn downs.Disgraceful
Wish him and all others the best getting jobs so they can stay home.