My SX strat was sitting around my room in pieces so I decided to do something with it that didn't involve spending any money...
Ended up looking not too bad. Wanted to sand the whole thing down but ended up getting very lazy and just doing the top, leaving the sides and back completely black which ended up looking cool (I think so anyway).
Went waaay too hard on bits of it sanding it down and there's some dodgy bits (around 30% of the visible surface actually...) but sure **** it... People spend thousands on signature models which have been artificially aged, this one at least has a story behind the dodgy bits
The scratchplate was a bit of an accident. Always liked the look of black scratchplates on natural finish guitars so tried to paint it but only had a black permanent marker... ended up looking a bit cack as you can imagine. A mate had a can of blue spray paint lying around which ended up being nearly finished so only trickles went flying out onto the scratchplate, BUT it ended up leaving a pretty cool finish. Have a clear laquer spray lying around I'll one day get around to spraying it with. Possibly laquer the body too but I don't know whether I'm arsed...
The guitar had been thrown around and had a good few dings and scratches in it so there's a few dodgy bits on the body but, hey, I like it and that's all that counts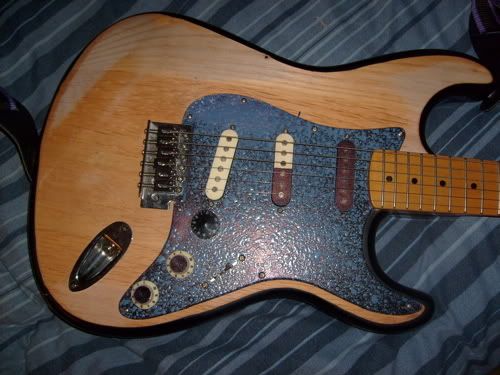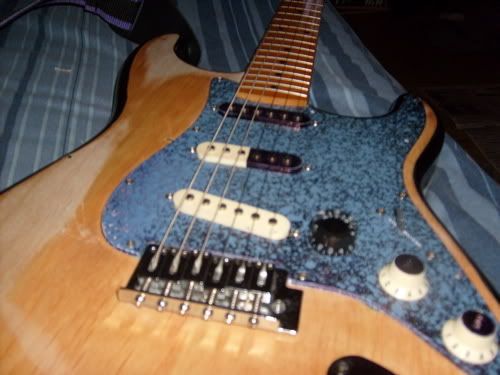 Still got the stock pickups (although coloured in a little bit) but doesn't sound too bad at all. Stays in tune too which is always a plus
Calling it the Cackocaster.