Ok, I know this is a day early, but I'm not sure how much time I'll get in the morning - so didn't want to wait!
Lamb Klefitko
'Klefitko', apparently, means 'in the style of the thieves'
- the origin of this dish is that it was cooked by bandits
in the hills of Greece, using ingredients they had to hand.
In order to escape discovery, they cooked in tightly sealed
vessels so there was no telltale smell. I have no idea how
they avoided capture when actually eating!
Lamb and spring are connected in my mind, and lamb, Greece
and Easter even more so - which is why I chose this. Here we
go: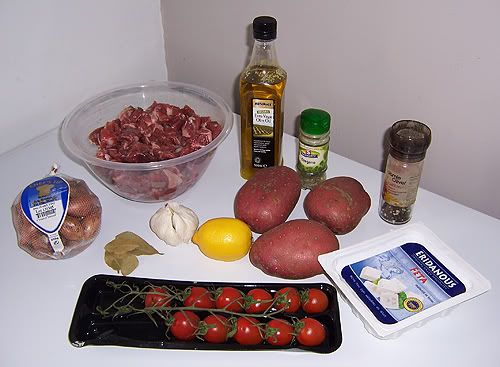 Ingredients
2lb stewing lamb
3 or 4 potatoes, according to size
1 pack of shallots
1 pack Feta cheese
1 lemon
2 tbsp olive oil
2 cloves of garlic
3 or 4 bay leaves
Dried oregano
8 cherry tomatoes, whole, or 2 large tomatoes, sliced
Salt and freshly ground black pepper
Start by peeling the potatoes and cutting them lengthwise
into wedges. You could , of course, cut them into chunks but
they always seem to do it this way when I've eaten spuds in
Greece.
Put the potatoes into a casserole dish (it MUST have a lid).
Slip the bayleaves between the potatoes, season well with
salt and pepper, and squeeze the juice of the lemon over.
Pre-heat your oven to 150 degrees.
Add 1 tbsp of the olive oil to a large pan, and brown the
lamb in it over a high heat. It's important to really brown
the meat - you may have to do it in more than one batch
(took me 3) - so that it goes brown on the outside, as
opposed to steaming to grey, which is what it will do if
there's too much meat/moisture in your pan. A lot of the
flavour comes from this browning - something called the
Maillard reaction takes place, which brings out the flavour
- so be sure not to cut corners here.
Once the meat's browned, add seasoning, then another tbsp of
olive oil, then the peeled shallots, and 2 cloves of garlic,
crushed and chopped.
Cook for around 5 minutes, until the
shallots begin to take on some colour - then pour the whole
lot, including all pan juices, over the potatoes in your
dish.
Take the Feta out of its wrapping, and cut/crumble into
chunks, then sprinkle over the lamb. Put the tomatoes on
top, then shake your oregano over it all (to taste).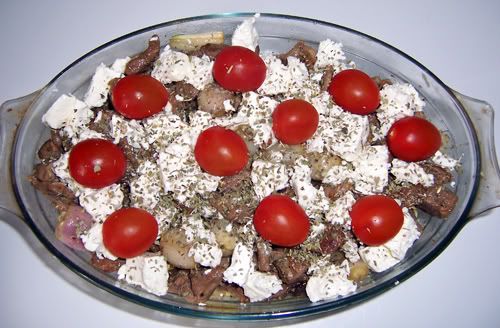 Put a tight fitting lid on the casserole dish (now I toyed
with the idea of making a flour/water seal between lid and
base, but decided it wasn't really necessary, since my lid
fits well. Yours may differ, so it's up to you).
Into the oven it goes for around 4 hours. This gives you
plenty of time to go out banditing, without having to worry
about someone finding your camp.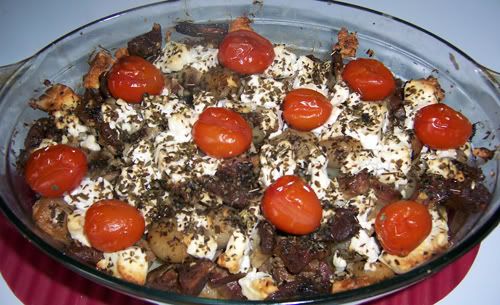 When you're ready to eat, simply remove the lid and serve. I
think it works as a standalone dish, but you could always
have something green on the side.
Hope you enjoy it!