I will publish this as part of the vinca thread, but i thought it should also be published here as a separate thread.
Quote:
Acorns served an important role in early human history and were a source of food for many cultures around the world.[9] For instance, the Ancient Greek lower classes and the Japanese (during the Jōmon period) would eat acorns, especially in times of famine.[citation needed] In ancient Iberia they were a staple food, according to Strabo.
http://en.wikipedia.org/wiki/Acorn
Our ancestors probably did the same. In Serbia peasants ate acorns well into 1950s. But what is amazing is how our ancestors made acorn flower. They did so by grinding acorns in acorn grinding slabs. How do we know that? From observing Indians in north America.
Quote:
Acorns were a traditional food of many indigenous peoples of North America, but served an especially important role for Californian Native Americans, where the ranges of several species of oaks overlap, increasing the reliability of the resource.[11]
Unlike many other plant foods, acorns do not need to be eaten or processed right away, but may be stored for a long time, as done by squirrels. In years that oaks produced many acorns, Native Americans sometimes collected enough acorns to store for two years as insurance against poor acorn production years.
After drying them in the sun to discourage mold and germination, women took acorns back to their villages and cached them in hollow trees or structures on poles, to keep them safe from mice and squirrels. The stored acorns could then be used when needed, particularly during the winter when other resources were scarce. Those acorns that germinated in the fall were shelled and pulverized before those that germinate in spring. Because of their high fat content, stored acorns can become rancid. Molds may also grow on them.
Native North Americans took an active and sophisticated role in managing acorn resources by using fire, which increased the production of acorns and made them easier to collect.[citation needed] The light ground fires killed the larvae of acorn moths and acorn weevils by burning them during their dormancy period in the soil. The pests can infest and consume more than 95% of an oak's acorns.
Fires also released the nutrients bound in dead leaves and other plant debris into the soil, thus fertilizing oak trees while clearing the ground to make acorn collection easier. Most North American oaks tolerate light fires, especially when consistent burning has eliminated woody fuel accumulation around their trunks. Consistent burning encouraged oak growth at the expense of other trees less tolerant of fire, thus keeping oaks dominant in the landscapes.
Oaks produce more acorns when they are not too close to other oaks and thus competing with them for sunlight, water and soil nutrients. The fires tended to eliminate the more vulnerable young oaks and leave old oaks which created open oak savannas with trees ideally spaced to maximize acorn production.
http://en.wikipedia.org/wiki/Acorn
Quote:
In archaeology, a grinding slab is a ground stone artifact generally used to grind plant materials into usable size, though some slabs were used to shape other ground stone artifacts. Some grinding stones are portable; others are not and, in fact, may be part of a stone outcropping.
Grinding slabs used for plant processing typically acted as a coarse surface against which plant materials were ground using a portable hand stone, or mano ("hand" in Spanish). Variant grinding slabs are referred to as metates or querns, and have a ground-out bowl. Like all ground stone artifacts, grinding slabs are made of large-grained materials such as granite, basalt, or similar tool stones.
http://en.wikipedia.org/wiki/Grinding_slab
Yosemite Grinding Stone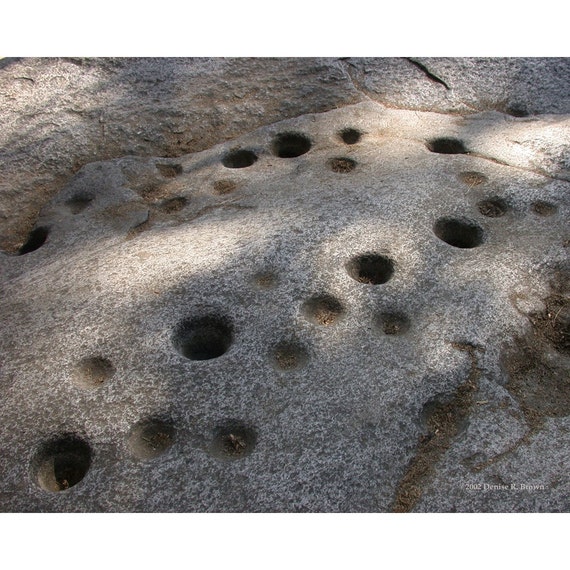 Old Indian woman preparing acorn meal.
http://www.archives.gov/pacific/educ...otographs.html
Rude mortars and pestles for grinding acorn meal. The holes have been worn in the granite by constant use.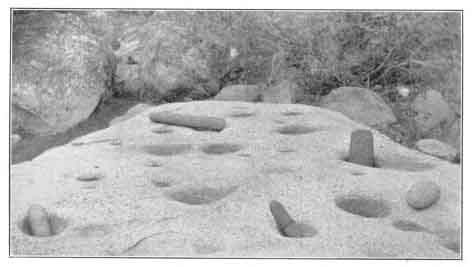 http://www.sacred-texts.com/nam/ca/ioy/ioy07.htm
Quote:
Hundreds of years ago Indian women all over America ground acorns, nuts, and later maize (corn) with a stone pestle and a mortar made by grinding a hole in the bedrock. (Photo courtesy of Southwest Museum)
Quote:
A corn mill found in the West Woods Complex in Guilford, CT which was part of the Quinnipiac's Menunkatuck Band Sachemdom. Similar mills have been found at Turkey Hill between Orange, CT and Naugatuck, CT, and many other locations as well. (Photo by Forrest Helander, Guilford, CT)
http://acqtc.org/Culture/WtpcqLongWaterPlace
Now am i the only one who sees similarity between these acorn grinding stones from north America and bullaun stones?
Quote:
A bullaun (Irish: bullán; from a word cognate with "bowl" and French bol) is the term used for the depression in a stone which is often water filled. Natural rounded boulders or pebbles may sit in the bullaun.[1] The size of the bullaun is highly variable and these hemispherical cups hollowed out of a rock may come as singles or multiples with the same rock.[2][3]
Local folklore often attaches religious or magical significance to bullaun stones, such as the belief that the rainwater collecting in a stone's hollow has healing properties.[4] Ritual use of some bullaun stones continued well into the Christian period and many are found in association with early churches, such as the 'Deer' Stone at Glendalough, County Wicklow. The example at St Brigit's Stone County Cavan still has its 'cure' or 'curse' stones. These would be used by turning them whilst praying for or cursing somebody.[1] In May 2012 the first cursing stone to be found in Scotland was discovered on Canna. It has been dated to circa 800.[5] The stones were latterly known as 'Butterlumps'.[6]
St. Aid or Áed mac Bricc was Bishop of Killare in 6th-century. At Saint Aid's birth his head had hit a stone, leaving a hole in which collected rainwater that cured all ailments, thus identifying it with the Irish tradition of Bullaun stones.[7]
Bullauns are not unique to Ireland and Scotland, being also found on the Swedish island of Gotland, and in Lithuania and France. Possibly enlarged from already-existing solution-pits caused by rain, bullauns are, of course, reminiscent of the cup-marked stones which occur all over Atlantic Europe, and their significance (if not their precise use) must date from Neolithic times.
http://en.wikipedia.org/wiki/Bullaun
And how is it possible that "we still don't know their precise use"? Ireland was once covered with mighty oak forests. People must have used the same type of acorn grinding stones in Ireland as they did in America for the same purpose: for grinding acorns. We still use stone mortars and pestles. I have one at home like this:
And here is a prihistoric one:
Acorns ground in stone mortar and pestle:
As i said numerous times before, people are extremely conservative when it comes to tools and will use something that works untill they find something that does it better.
So what do you think?