Note: All this information is publicly available. The information given is for guidance only and should be not be used for any purpose other than information

Hi Folks,
Seeing as there is a mega thread to do with Speed Cameras, I though I would start a thread specifically to deal with what they are and how they work.
Speed Cameras in Ireland are in two groups:
Mobile and Fixed
In the Mobile category we have two distinct groups – GoSafe and An Garda Siochanna.
Mobile Van
These are the newest editions to Irish roads and look like this:
At the rear we have this:
Note: They arn't all so well marked! So look out for a van / jeep with an odd looking rear window.
How do they work?
In a nutshell there is a person inside viewing a camera. The camera is linked to a radar system and based on this radar system they can work out a vehicles speed. The system can work with the car going towards and away from the rear doors. They cannot work while the vehicle is in motion.
The system is made by RedFlex based in the USA.
This is what the camera looks like:
Motoring Facts:
Can I detect this?
Yes
How?
You have two options.
1) The system operates on K Band Radar. As a result you can detect this radar signal with suitable equipment. Such equipment is illegal in Ireland. There is no set fine and even their importation is illegal. You have no legal right to have one on Irish soil.
2) GPS – GPS systems work by having a database full of key locations. While they are very good, they do not protect you if a van is used outside a specified zone which is HIGHLY likely. As a result they offer no real protection. They are more useful in countries where fixed cameras operate.
Mobile Tripod / Handheld
These have been on Irish roads for a long time. They look like this:
Known as the Ultralyte they are used by the Garda and operate at 905nm laser. They are accurate to above 1000m which is more than enough to nab you. They can grab your speed faster than you can blink (and some!) They are generally used aiming at the front / rear number plate or your headlights.
The official UK Dealer:
http://www.teletrafficuk.com/products_ultralyte100.htm
Can I detect this
? Not Really...
How?
The system uses laser light. As such it is a very intense narrow beam. You will have a hard time detecting it unless it is looking straight at you, which by then your speed will have been read.
They are very hard to detect "off axis" as you need to the laser light to bounce or reflect (i.e. Off a car in front of you) If your on your own against a laser, it will read you.
I Can Challenge on Calibration!
? I wouldn't! While these guns should be calibrated every day (And the Garda in question should be asked for this info) to my knowledge there is no legal requirement to do so. You would be challenging a Garda versus the manufacturer. "IF" (and its a big IF) the gun was years out of calibration you may have case. Ask at the road side for the guns serial number and last calibration data.
Fixed Cameras
There are a few of these on Irish roads and they are known as GATSO's. Invented by a rally driver they are popular in the UK.
They look like this and are situated on the roadside: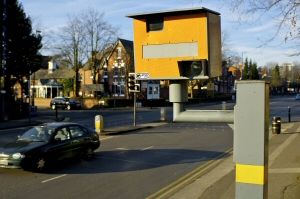 Note: Most in Ireland are grey in color and unmarked. They mainly reside on National roads.
They are a little easier to detect for two reasons:
1) They are fixed by concrete so they are unlikely to move. As a result GPS's loaded with their locations can be considered to be accurate.
2) Road Markings: GATSO's work by taking two photos of your car across a set distance measured by road markings. This is a double safety. The radar unit in the GATSO says you were speeding and the time between the shots and the distance travelled is a guaranteed.
3) The work on K Band radar. As a result you can detect this, however be warned, the radar unit is facing away from you so reception is limited. You are hoping for VERY sensitive equipment or a bounce from the car in front.
Road Markings:
They are generally much tighter together, it depends on the location and speed measurement required. They ALWAYS appear after the GATSO so if you see them too late your nabbed! Look out for them.
General Notes:
Detection of Radar is illegal and Traffic Corp know what these devices look like. Many cheap models can be detected by "Detector Detectors" so you will be caught out.
Interfering with signals (i.e. Jamming) is illegal and will result in a huge fine. Jamming radar will also land you in HUGE trouble with An Garda and ComReg.
Slow down, its cheaper!
Trapster – An invaluable tool. This works by users uploading information about police traps. It is very good but remember information is as reliable as the source. Also remember you may be the first (and last) Trapster user to pass a trap. Available on the App Store.
GPS Devices – Information is only as reliable as the source. Many commercial maps are more valuable in countries with more fixed cameras.
Take Care. Reduce Your Speed. Accidents can happen due to speed. Spend your time driving safely, not avoiding cameras.
Updates: v1.1 (Adding more information)
Questions: On thread. I will not answer any PM relating to this post except from Mods.