Estofex going for a level 1 in parts of the South, could get Interesting later on.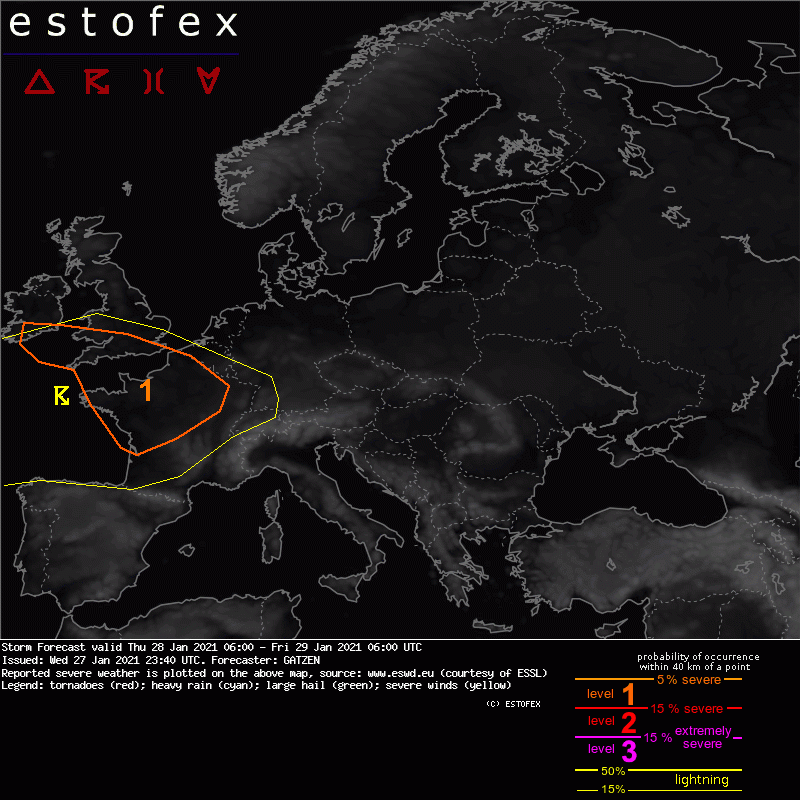 Storm Forecast
Valid: Thu 28 Jan 2021 06:00 to Fri 29 Jan 2021 06:00 UTC
Issued: Wed 27 Jan 2021 23:40
Forecaster: GATZEN
A level 1 was issued across the southern British Isles and north-western and central France for severe wind gusts and a few tornadoes.
SYNOPSIS / DISCUSSION
A large trough is located across eastern Europe that will lift during the period. In its wake, a strong jet stream extends from the northern Atlantic towards the Mediterranean. Two vort-maxima will cross western Europe and provide QG lift. At lower levels, a tongue of humid maritime air spreads into western Europe, with mixing ratios around 8 g/kg. Lift due to warm air advection will result in rather steep lapse rates and weak CAPE.
On Thursday, widespread showers are expected within the martime air mass. Two activity maxima are forecast in association with two vort-maxima, one crossing the British Islea into the Benelux countries in the afternoon and evening, another affecting large parts of the Bay of Biscay and France late in the period.
Chance of thunderstorms is highest in the northern parts , whereas only isolated lightning is expected in the south due to higher EL temperature. Showers and thunderstorms will be well-organized in a high-shear, low-CAPE environment, with about 15 to 20 m/s 0-1 km vertical wind shear. Bowing segments and low-topped mesocyclones are not ruled out. Main threat are severe wind gusts. However, due to low LCLs, a few tornadoes are not ruled out.
https://www.estofex.org/cgi-bin/poly...rmforecast.xml