Quote:
Originally Posted by
Kippure
Wait till they fix hubble, then we,ll see whats coming....i suppose?
oh she's fixed now,here's some info on that
Image above: Astronaut Michael Good, STS-125 mission specialist, pauses near controls on the aft flight deck of the Earth-orbiting Atlantis on the day the space shuttle parts company with the Hubble Space Telescope for the final time. Photo Credit: NASA
STS-125 Leaves Improved Hubble Behind
The crew of Atlantis bid farewell to the Hubble Space Telescope on behalf of NASA and the rest of the world Tuesday. The telescope was released back into space at 8:57 a.m. EDT. With its upgrades, the telescope should be able to see farther into the universe than ever before.
Atlantis performed a final separation maneuver from the telescope at 9:28 a.m., which took the shuttle out of the vicinity of Hubble. The berthing mechanism to which Hubble has been attached during the mission was stored back down into the payload bay.
The rest of the day was focused on the scheduled inspection of Atlantis' heat shield, searching for any potential damage from orbital debris. The crew used the shuttle robotic arm to operate the Orbiter Boom Sensor System (OBSS) for the inspection. The crew worked ahead of schedule and returned the OBSS to the payload bay sill Tuesday instead of Wednesday.
› View the Launch of Atlantis in High Definition (HD)
excellent link all about that trip which includes the space walk and stunning images.
19 May 09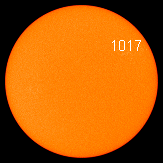 Fading sunspot group 1017 is a member of new Solar Cycle 24. Credit: SOHO/MDI



Sunspot number: 14
What is the sunspot number?

Updated 19 May 2009
Spotless Days

Current Stretch: 0 days
2009 total: 115 days (83%)
Since 2004: 626 days
Typical Solar Min: 485 days