*updated title as new warning out*
Some very high rainfall totals expected over the next 48 hours with possibly even more over the following 48 hours.
Status Yellow rainfall warning in place:
Quote:
Status Yellow - Rainfall warning for Kilkenny, Wexford, Cork, Tipperary and Waterford

From early hours of Wednesday to noon on Thursday, spells of heavy rain at times will give amounts of 30 to 50 mm with a risk of spot flooding.

Valid: Wednesday 20 November 2019 00:01 to Thursday 21 November 2019 12:00

Issued: Tuesday 19 November 2019 11:00
ECMWF rainfall totals up to Sunday night shows over 100mm possible in some areas!
High risk of some local flooding if that turns out that way.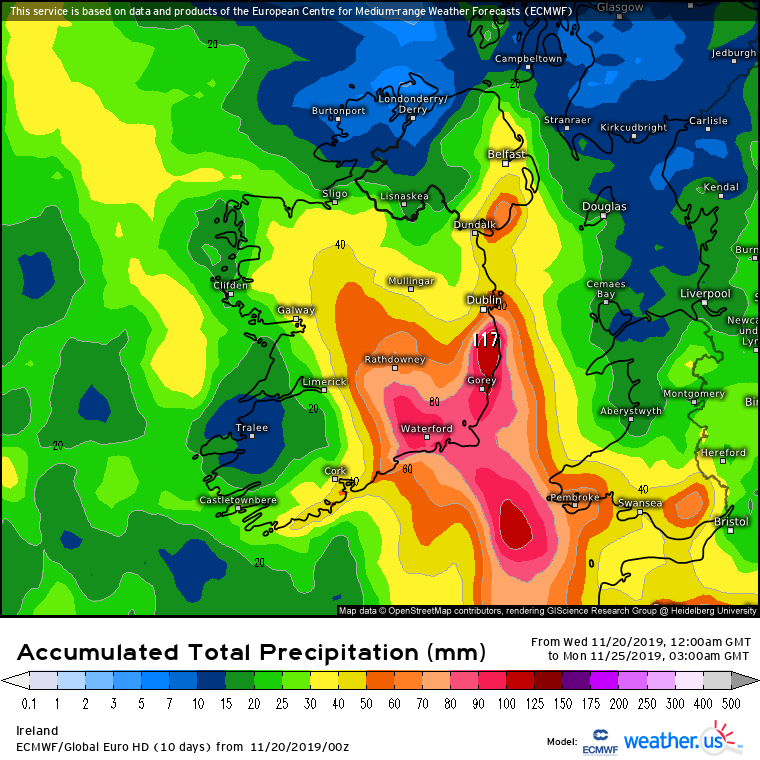 Orange warning added now:
Quote:
Status Orange - Rainfall warning for Tipperary and Waterford

Heavy rain during the period will cause spot flooding. Accumulations in excess of 50mm possible in some parts.

Valid: Wednesday 20 November 2019 15:00 to Thursday 21 November 2019 18:00

Issued: Wednesday 20 November 2019 09:00