Came across this today, was surprised by the projections. I knew there was rapid change afoot, but not on this level. For what its worth I looked into the research and found it to be a reputable source. Well worth having a look at it.
http://www.pewforum.org/2017/11/29/e...im-population/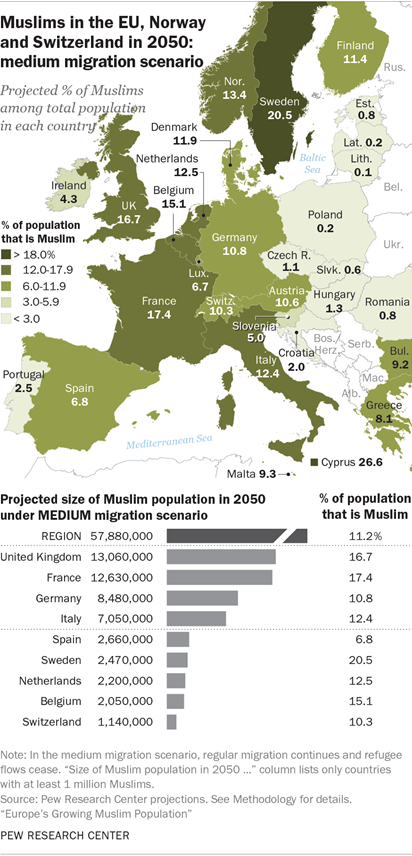 I don't want to turn this into an essay so I'll try to make brief points (still gonna be long).
I don't think this is a good thing. I am not looking at it from an anti-muslim point of view, but rather from an irish/European point of view. They could be ostriches instead of muslims, I'm more focused on the rapid decline of our own population majorities and how it impacts on us.
You cant solve a problem until you recognise that there is a problem. That's why the poll I'm including is simply a "this is bad news" versus "this is good news". This frames the problem, not anything about solutions. Just a clean yes or no that puts us at a starting point.
Its not simply about religion. You can be against religion in general, but that wont stop the changes that this migration will bring. It will inevitably lead toward the creation of muslim political parties, it will bring Europe into closer alliance with the middle east, there is the spectre of Sharia law being enforced, social values and so on.
There are 3 projections in the paper, I am excluding the zero immigration scenario because it is highly unlikely. Note that with zero immigration the muslim population is projected to double anyway. I think the medium and high projections are solid, simply for the fact that I don't see any stop to immigration under the medium term. There is no political will for it.
I tend toward the high immigration scenario. The world is getting hotter, and climate change is factual whether you believe its man-made or natural. As time goes on the impetus to leave inhospitable zones will drive immigration numbers we have never seen before. Other reasons too, but that one is incontrovertible in particular.
I don't blame muslims for moving to Europe. Simply put, it is a superior place to live in all terms, from infrastructure to climate. The real issue lies with us, and I think the over-riding problem is that we are no longer united as a people, neither on a European level or a national level. We are living in a social climate were we are constantly put down, repeatedly told we are "bad" for all manner of reasons. That has a difficult-to-measure effect, whether it is putting down "white" people, putting down men, putting down straight people, gay people, women, pro and anti-abortion, the list is endless. The word "nationalism" is a bad word now. Christianity is a bad thing now too. Basically everything and anything that could have brought us together has had the opposite effect, it has weakened us to a point where we can no longer act collectively for our own greater good.
I always thought a house is a very apt analogy for countries. If you believe that you don't own the house you live (thereby inviting anyone else to take it), then someone else WILL take it. Its as simple as that. This is the reality of the world.
Our population is stabilising, but the pyramid scheme of importing layer upon layer of cheap labour is foisted on us daily. Its a crazy scheme that doesn't stand up to logic. Unfortunately, instead of allowing our population to stabilise, it is merely opening the door for continued mass immigration.
We are also pricing ourselves out of existence. There are increasing sections of our societies that can no longer afford to have children. This is fuel to the fire with poorly regulated immigration.
Will an increasing muslim population (and rise of muslim majority political parties) mean that they will close the doors to yet more muslims entering Europe? Highly unlikely, its simply logical that that they would want more to come in.
Will a decreasing European population (with decreasing political representation) mean that we will be MORE or LESS able to curb muslim immigration? Logically, we will have less say.
As I said above, this isn't strictly about muslims. Just think of the numbers when you include every other non-European denomination too. And don't forget the amount of undocumented, which I would guess is very, very high too.
If it was balanced, if we could say that Saudi Arabia will have a 30% European population by 2050, theres nothing to worry about. But this is all a one-way stream. Our population is going down, exponentially......and that's it. Theres no upside.
I'm primarily interested in whether people see this as a problem or not. I think it is a problem, a serious problem that would be easier to address today than it will be later, whatever form that takes.
Note: The muslim population of Ireland in these projections remains quite small in all scenarios. However the overall effect would be akin to moving Ireland to the middle east. I don't see how that could be a good thing.
Note 2: There no point bashing muslims. If someone chimes in with some outwardly racist comment, just realise that you are giving people rope with which to hang yourself. This is a common sense issue here, argue with common sense.