This map gives a rough picture of the military strengths of Eastern NATO countries if a ground war kicked off.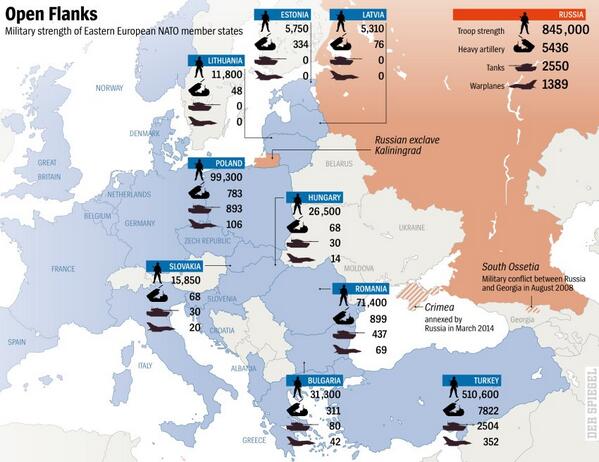 The Baltic countries would be the obvious target of a Russian advance due to the absence of armor or air forces with Kaliningrad in the path of a NATO counterattack.
Belarus and Ukraine would act as buffers if Poland and Romanian were to launch a pincer movement on the Russian center. If NATO were to stick to the defense their center, Hungary and Slovakia are vulnerable. Turkey would probably desert the NATO alliance and remain neutral.
Ultimately Russian forces would be spread too thinly to fight on all fronts and its regular forces would be bled white before reserves could be called up.
Putin isn't an idiot.
If a shooting war broke out his forces would make probably gains in the opening phase of the conflict but would be overextended and annihilated once NATO mobilized in response.
If Putin tried a Crimea style take over in the Baltic countries and was forced to withdraw his forces his regime would fall.
All that Putin wants is a Russian Crimea and a corridor through Ukraine to the Black Sea. He has more or less achieved that and he's make no more advances.