http://news.bbc.co.uk/1/hi/sci/tech/8009185.stm
http://news.bbc.co.uk/1/hi/sci/tech/8009492.stm
Are we approaching a mini iceage folks? history does have a habit of repeating itself.its definately bein colder of late.bring it on i say.here's some info on current state of our shining orb.all comments and thoughts welcome folks.
THE SUN IS DEAD,SHOULD WE WARN OF APPROACHING MINI ICEAGE?
Dark spots, some as large as 50,000 miles in diameter, typically move across the surface of the sun, contracting and expanding as they go. These strange and powerful phenomena are known as sunspots, but now they are all gone. Not even solar physicists know why it's happening and what this odd solar silence might be indicating for our future.
Although periods of inactivity are normal for the sun, this current period has gone on much longer than usual and scientists are starting to worry—at least a little bit. Recently 100 scientists from Europe, Asia, Latin America, Africa and North America gathered to discuss the issue at an international solar conference at Montana State University. Today's sun is as inactive as it was two years ago, and solar physicists don't have a clue as to why.
"It continues to be dead," said Saku Tsuneta with the National Astronomical Observatory of Japan, program manager for the Hinode solar mission, noting that it is at least a little bit worrisome for scientists.
Dana Longcope, a solar physicist at MSU, said the sun usually operates on an 11-year cycle with maximum activity occurring in the middle of the cycle. The last cycle reached its peak in 2001 and is believed to be just ending now, Longcope said. The next cycle is just beginning and is expected to reach its peak sometime around 2012. But so far nothing is happening.
"It's a dead face," Tsuneta said of the sun's appearance.
Tsuneta said solar physicists aren't weather forecasters and they can't predict the future. They do have the ability to observe, however, and they have observed a longer-than-normal period of solar inactivity. In the past, they observed that the sun once went 50 years without producing sunspots. That period coincided with a little ice age on Earth that lasted from 1650 to 1700. Coincidence? Some scientists say it was, but many worry that it wasn't.
Geophysicist Phil Chapman, the first Australian to become an astronaut with NASA, said pictures from the US Solar and Heliospheric Observatory also show that there are currently no spots on the sun. He also noted that the world cooled quickly between January last year and January this year, by about 0.7C.
"This is the fastest temperature change in the instrumental record, and it puts us back to where we were in 1930," Dr Chapman noted in The Australian recently.
If the world does face another mini Ice Age, it could come without warning. Evidence for abrupt climate change is readily found in ice cores taken from Greenland and Antarctica. One of the best known examples of such an event is the Younger Dryas cooling, which occurred about 12,000 years ago, named after the arctic wildflower found in northern European sediments. This event began and ended rather abruptly, and for its entire 1000 year duration the North Atlantic region was about 5°C colder. Could something like this happen again? There's no way to tell, and because the changes can happen all within one decade—we might not even see it coming.
The Younger Dryas occurred at a time when orbital forcing should have continued to drive climate to the present warm state. The unexplained phenomenon has been the topic of much intense scientific debate, as well as other millennial scale events.
Now this 11-year low in Sunspot activity has raised fears among a small but growing number of scientists that rather than getting warmer, the Earth could possibly be about to return to another cooling period. The idea is especially intriguing considering that most of the world is in preparation for global warming.
Canadian scientist Kenneth Tapping of the National Research Council has also noted that solar activity has entered into an unusually inactive phase, but what that means—if anything—is still anyone's guess. Another solar scientist, Oleg Sorokhtin, a fellow of the Russian Academy of Natural Sciences, however, is certain that it's an indication of a coming cooling period.
Sorokhtin believes that a lack of sunspots does indicate a coming cooling period based on certain past trends and early records. In fact, he calls manmade climate change "a drop in the bucket" compared to the fierce and abrupt cold that can potentially be brought on by inactive solar phases.
Sorokhtin's advice: "Stock up on fur coats"…just in case
The Sun is the dimmest it has been for nearly a century.
There are no sunspots, very few solar flares - and our nearest star is the quietest it has been for a very long time.
The observations are baffling astronomers, who are due to study new pictures of the Sun, taken from space, at the UK National Astronomy Meeting.
The Sun normally undergoes an 11-year cycle of activity. At its peak, it has a tumultuous boiling atmosphere that spits out flares and planet-sized chunks of super-hot gas. This is followed by a calmer period.
Last year, it was expected that it would have been hotting up after a quiet spell. But instead it hit a 50-year year low in solar wind pressure, a 55-year low in radio emissions, and a 100-year low in sunspot activity.
According to Prof Louise Hara of University College London, it is unclear why this is happening or when the Sun is likely to become more active again.
"There's no sign of us coming out of it yet," she told BBC News.
"At the moment, there are scientific papers coming out suggesting that we'll be going into a normal period of activity soon.
"Others are suggesting we'll be going into another minimum period - this is a big scientific debate at the moment."
Sunspots could be seen by the Soho telescope in 2001 (l), but not this year (r)
In the mid-17th Century, a quiet spell - known as the Maunder Minimum - lasted 70 years, and led to a "mini ice-age".
This has resulted in some people suggesting that a similar cooling might offset the impact of climate change.
According to Prof Mike Lockwood of Southampton University, this view is too simplistic.
"I wish the Sun was coming to our aid but, unfortunately, the data shows that is not the case," he said.
Prof Lockwood was one of the first researchers to show that the Sun's activity has been gradually decreasing since 1985, yet overall global temperatures have continued to rise.
"If you look carefully at the observations, it's pretty clear that the underlying level of the Sun peaked at about 1985 and what we are seeing is a continuation of a downward trend (in solar activity) that's been going on for a couple of decades.
"If the Sun's dimming were to have a cooling effect, we'd have seen it by now."
'Middle ground'
Evidence from tree trunks and ice cores suggest that the Sun is calming down after an unusually high point in its activity.
Professor Lockwood believes that as well as the Sun's 11-year cycle, there is an underlying solar oscillation lasting hundreds of years.
He suggests that 1985 marked the "grand maximum" in this long-term cycle and the Maunder Minimum marked its low point.
"We are re-entering the middle ground after a period which has seen the Sun in its top 10% of activity," said Professor Lockwood.
"We would expect it to be more than a hundred years before we get down to the levels of the Maunder Minimum."
He added that the current slight dimming of the Sun is not going to reverse the rise in global temperatures caused by the burning of fossil fuels.
"What we are seeing is consistent with a global temperature rise, not that the Sun is coming to our aid."
Data from the Intergovernmental Panel on Climate Change (IPCC) shows global average temperatures have risen by about 0.7C since the beginning of the 20th Century.
And the IPCC projects that the world will continue to warm, with temperatures expected to rise between 1.8C and 4C by the end of the century.
No-one knows how the centuries-long waxing and waning of the Sun works. However, astronomers now have space telescopes studying the Sun in detail.
According to Prof Richard Harrison of the Rutherford Appleton Laboratory, Oxfordshire, this current quiet period gives astronomers a unique opportunity.
"This is very exciting because as astronomers we've never seen anything like this before in our lifetimes," he said.
"We have spacecraft up there to study the Sun in phenomenal detail. With these telescopes we can study this minimum of activity in a way that we could not have done so in the past."
The sunspot cycle is behaving a little like the stock market. Just when you think it has hit bottom, it goes even lower.
2008 was a bear. There were no sunspots observed on 266 of the year's 366 days (73%). To find a year with more blank suns, you have to go all the way back to 1913, which had 311 spotless days: Prompted by these numbers, some observers suggested that the solar cycle had hit bottom in 2008.
Maybe not. Sunspot counts for 2009 have dropped even lower. As of March 31st, there were no sunspots on 78 of the year's 90 days (87%).
It adds up to one inescapable conclusion: "We're experiencing a very deep solar minimum," says solar physicist Dean Pesnell of the Goddard Space Flight Center.
"This is the quietest sun we've seen in almost a century," agrees sunspot expert David Hathaway of the Marshall Space Flight Center.
Quiet suns come along every 11 years or so. It's a natural part of the sunspot cycle, discovered by German astronomer Heinrich Schwabe in the mid-1800s. Sunspots are planet-sized islands of magnetism on the surface of the sun; they are sources of solar flares, coronal mass ejections and intense UV radiation. Plotting sunspot counts, Schwabe saw that peaks of solar activity were always followed by valleys of relative calm—a clockwork pattern that has held true for more than 200 years:.
The current solar minimum is part of that pattern. In fact, it's right on time. "We're due for a bit of quiet—and here it is," says Pesnell.
But is it supposed to be
this
quiet? In 2008, the sun set the following records:
A 50-year low in solar wind pressure:
Measurements by the Ulysses spacecraft reveal a 20% drop in solar wind pressure since the mid-1990s—the lowest point since such measurements began in the 1960s. The solar wind helps keep galactic cosmic rays out of the inner solar system. With the solar wind flagging, more cosmic rays are permitted to enter, resulting in increased health hazards for astronauts. Weaker solar wind also means fewer geomagnetic storms and auroras on Earth.
A 12-year low in solar "irradiance":
Careful measurements by several NASA spacecraft show that the sun's brightness has dropped by 0.02% at visible wavelengths and 6% at extreme UV wavelengths since the solar minimum of 1996. The changes so far are not enough to reverse the course of global warming, but there are some other significant side-effects: Earth's upper atmosphere is heated less by the sun and it is therefore less "puffed up." Satellites in low Earth orbit experience less atmospheric drag, extending their operational lifetimes. Unfortunately, space junk also remains longer in Earth orbit, increasing hazards to spacecraft and satellites.
"What is Solar Minimum and Why Should We Care?"
A 55-year low in solar radio emissions:
After World War II, astronomers began keeping records of the sun's brightness at radio wavelengths. Records of 10.7 cm flux extend back all the way to the early 1950s. Radio telescopes are now recording the dimmest "radio sun" since 1955: Some researchers believe that the lessening of radio emissions is an indication of weakness in the sun's global magnetic field. No one is certain, however, because the source of these long-monitored radio emissions is not fully understood.
All these lows have sparked a debate about whether the ongoing minimum is "weird", "extreme" or just an overdue "market correction" following a string of unusually intense solar maxima.
"Since the Space Age began in the 1950s, solar activity has been generally high," notes Hathaway. "Five of the ten most intense solar cycles on record have occurred in the last 50 years. We're just not used to this kind of deep calm."
Deep calm was fairly common a hundred years ago. The solar minima of 1901 and 1913, for instance, were even longer than the one we're experiencing now. To match those minima in terms of depth and longevity, the current minimum will have to last at least another year.
In a way, the calm is exciting, says Pesnell. "For the first time in history, we're getting to see what a deep solar minimum is really like." A fleet of spacecraft including the Solar and Heliospheric Observatory (SOHO), the twin STEREO probes, the five THEMIS probes, Hinode, ACE, Wind, TRACE, AIM, TIMED, Geotail and others are studying the sun and its effects on Earth 24/7 using technology that didn't exist 100 years ago. Their measurements of solar wind, cosmic rays, irradiance and magnetic fields show that solar minimum is much more interesting and profound than anyone expected.
Bristling with advanced sensors, "SDO" is slated to launch later this year--perfect timing to study the ongoing solar minimum.
Modern technology cannot, however, predict what comes next. Competing models by dozens of top solar physicists disagree, sometimes sharply, on when this solar minimum will end and how big the next solar maximum will be. The great uncertainty stems from one simple fact: No one fully understands the underlying physics of the sunspot cycle.
SPACE WEATHER
Current conditions
Updated: Today at: 1145 UT


The sun is blank


Sunspot number: 0
NEW: Spotless Days
Current Stretch: 25 days
2009 total: 97 days (88%)
Since 2004: 608 days
Typical Solar Min: 485 days
Updated 20 Apr 2009

Updated: Today at 1146 UT

Coronal Holes: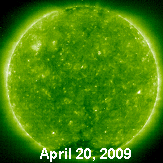 There are no large coronal holes on the Earth-facing side of the sun. Credit: SOHO Extreme UV Telescope


SPACE WEATHER