I needed a reasonably priced small torch for a new project and picked up a
Lighthouse elite CREE LED Focus Torch 3 AAA
for a tenner in a local hardware.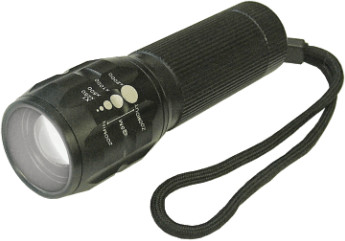 For the money I'd recommend it. I won't repeat all the specs as you can look them up if you are interested only down side is that its a bit too heavy for its small size and why do so many torches take 3 batteries when the packs of batteries come in 4's and 8's
Edit> So was out with this tonight for nearly and hour and its a powerful little torch. I also took along a lenser L7 (one of their cheaper range of 3 cell AAA torches) and a 2 AA celled LED maglite both these are twice the price of the Lighthouse torch and neither were as powerful or focusable, not that power was what I was looking for. How the Lighthouse one will fair in the long run I don't know, the cheap bit of it seems to be the lens which is pollycarbonate not glass and I don't know if that will degrade or get be easily scratched.