This is a guide on how to import a car from Japan to Ireland, guides have been written in the past but most are out of date and lacking crucial information, this guide is a how I did it and what to expect when importing to the Ireland of 2013.
Japan is still a ripe country when it comes to sporty automobiles and there is no better place to pick up a 2nd hand bargain than at the auctions. Cars that were once only a distant dream while playing Gran turismo can today be bought relatively cheap. My last two cars were JDM(Japanese Domestic Model), Both a Honda Civic and a Mitsubishi FTO and both were absolutely fantastic cars, so I didn't worry too much when I decided that my next car would also be a JDM. I wanted something a bit different, something large, with 4 doors but not too heavy, It needed a powerful Turbo Engine and be no more than 2.5 litre, I finally decided it had to be a 4 door Nissan Skyline but during the process of searching the auctions I kind of fell in love with a different car, The Toyota Chaser, which is what I ended up buying in the end.
So here is the process I went through from start to finish.
If you don't already have a definite car in mind then look at the auctions, See what is out there and what prices they are going for. Make sure to check the conversion rate between Yen and Euro. Do as much research on the car you want to buy as possible and if you still want to go ahead make sure to check out the VRT you will be paying once the car hits Ireland.
https://www.ros.ie/evrt-enquiry/vrte...execution=e1s1
If you are still happy to go ahead from here then its time to choose an agent,
what the agent does is source your vehicle, find your wanted Colour and spec, bid on the car on your behalf, organise transport with in Japan(from the Auction house to the docks) and they also deal with all the paperwork such as the deregistration and Export.
They usually require a deposit to be paid upfront and this can vary but is usually around €1000, I was told if I didnt win any cars then I would receive a full refund
You can view what cars are up at auction by using
http://www.japan-partner.com/
and browsing to 'Used Car Auctions'. While browsing the site it is a good idea to familiarize yourself with what different models of the car your after, for example There were 3 different grades of JZX100 chaser, the Tourer S, Tourer V and the Avente. The Tourer V was the 2.5 litre Turbo model putting out 280 hp and was the only one I wanted. So I told my agent what I wanted and we waited for suitable cars to turn up at the auctions, I would give him the lot numbers for cars I found myself and we would bid on them.
A very important word when looking to import, PATIENCE!
I was almost 2 months looking for a car in good quality, in the right colour and I could realistically get, I lost a few bids but in the end got a good car for a great price. I had given my agent a price of €2600 to play with and we ended up buying the car out of auction for €1800, it was a grade 4 with a grade C interior. I made all my payment to the agent trough PayPal.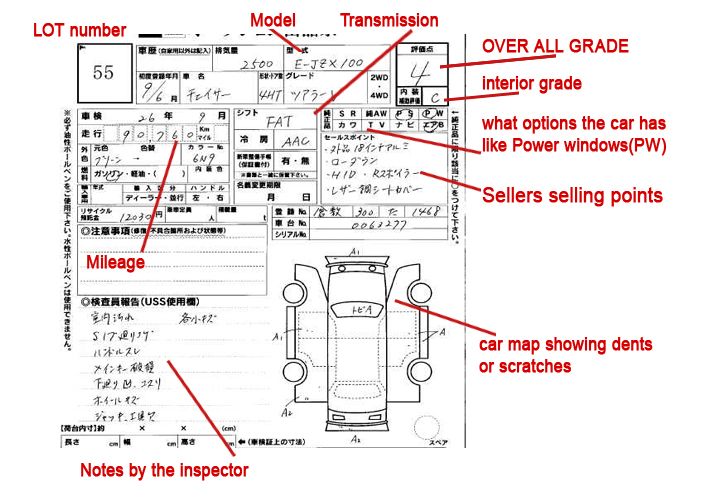 Taking a look at the auction sheet you will see many words in english, pay close attention to the little car diagram as this will indicate where if any marks, dents or scratches are on the car. I would look at only grade 4 or 3.5 as anything under these marks can end up being very rough. An R/RA grade usually means damaged and repaired, these cars can be bought at really low prices and the repairs can be so good they are unnoticeable but its at the buyers risk.
I got Titan autoworks to add a few mods to the car while it waited in Japan and hi res photos were sent to me which had much more detail than the ones I saw at auction. Some websites like
http://www.tradecarview.com/
offer similar services to the agent but are usually Japanese Dealers, these can cost more and you have less of a personal experience. Your agent will tell you the FOB(freight on board/ getting your car onto the boat) or if you want to pay for insurance the CIF(Insurance and Freight) price which includes the price of the car and the agent fee. You can organise to pay shipping though the agent or wait for the boat and pay it this end which is what I did. You have two options, Roll on Roll off or you can get a container, Roll on Roll off is by far the cheaper of the two as a container can cost over €1000.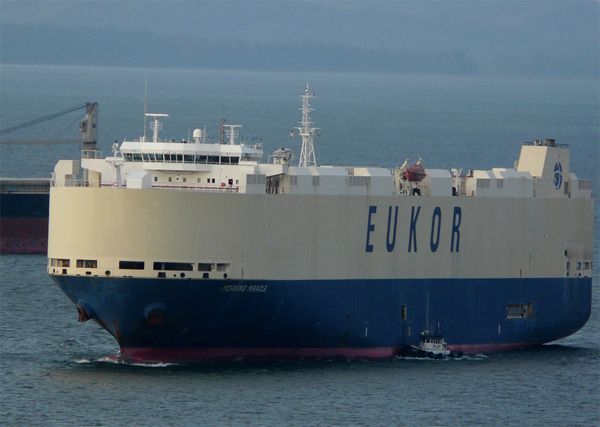 When the ship leaves Japan with your car onboard your agent will courier your paperwork to you, this includes an invoice for the car, a Bill of laden with info about the vessel carrying your car and a dereg/export cert(this may need to be translated into english). When you get your Bill of Laden you will be able to use this website to track your ship by name
http://marinetraffic.com/ais/
Now is a good time to choose a customs clearance broker, I chose
http://www.mccbrokers.com/
. You need to send them copies of the 3 documents you received and they will inform you of the costs involved at the docks such as customs, Vat and handling fees.
the break down at the Docks is like this if car cost €1000 and shipping was €700:
Duty: 10% price of car + shipping = €170
Vat: 23% price of Duty+car+shipping = €430
unloading fee: €100
broker fee: €120
Total at docks = €820
you can use this website to calculate your cost including duty and VAT.
http://www.dutycalculator.com/new-im...x-calculation/
You have 7 days to complete these tasks, after that point you will be charged to keep the car in the dock.
Make sure your Customs broker locks your car once off the ship, I have heard stories of bits going missing at the docks from cars that were left unlocked. The last few steps involve you getting the car from the docks, the safest easiest way is by transporter. You might risk driving it home yourself but if you are stopped by the Guards you could be in trouble.
Next you need to Book in an appointment to the NCTS center for to get the car VRTed
http://www.ncts.ie/vrt.html
, An appointment for a pre-registration examination of the vehicle must be made with a NCTS centre within 7 days of the vehicle entering the State. Registration must be completed within 30 days of the vehicle entering the State. You must give the NCTS center your certificate of export which they keep so you may want to make a copy of this. After you pay the VRT and some Motor Tax you get given a reg number and you must get plates made and on the car within 3 days, Your log book will then be posted to your home.
Now you should make an appointment to have the car NCTed, word of warning, you may need to get all 4 of your tires changed as they will not have a European E mark and this is a fail.
Thats it, Hope this helps bring more Japanese metal to these shores, happy hunting and dont be afraid to ask any questions.