Shane's death is quickly dealt with in February. Einri is proclaimed the new Taoiseach. However due to his young age, Tirlough is made his protector as head of the ruling O'Neill Roydammna. Tirlough follows the last instructions given to him by Shane in the French Campaign. February is declared a month of Mourning.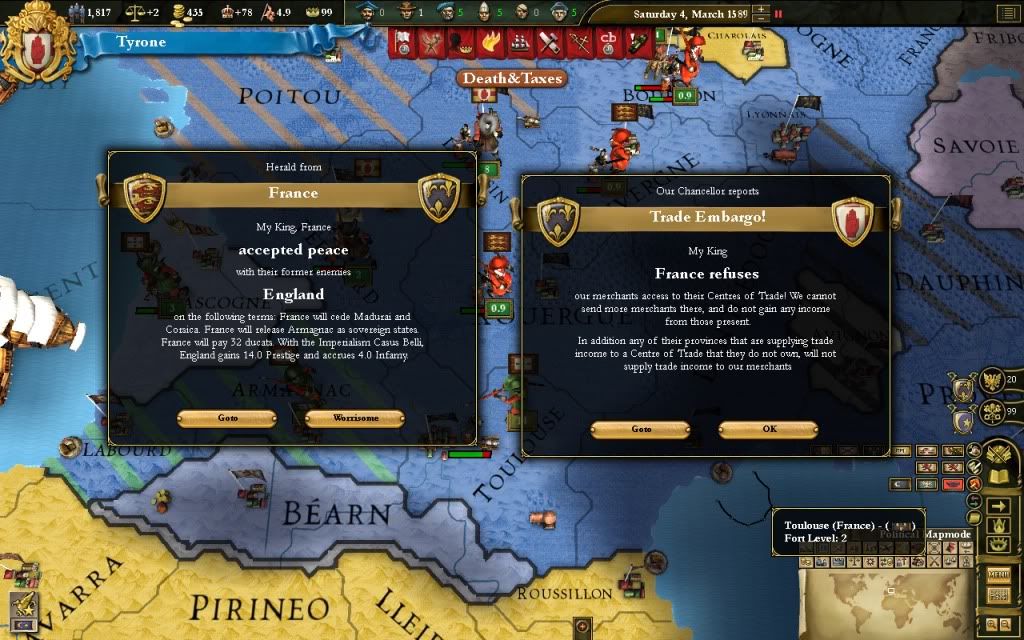 England makes peace with France leaving Einri enraged due to their general lack of involvement in the war. This loses occupied land from the Portugese in south western France. Elizabeth gains Corsica and a Indian colony. Armagnac is released as a nation, hurts Shane's plan for a strong Guyenne to keep France in Check.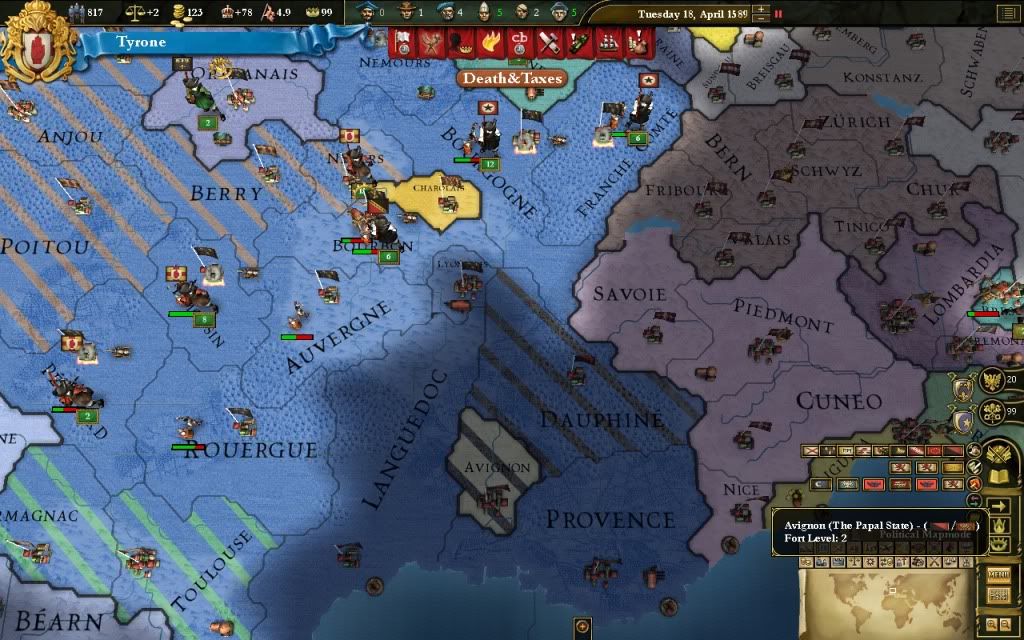 Tirlough raises Burgandian Nationalists, Pretender Rebels, and Occitian patriots in South Eastern France to destroy any war effort in the area, and increase French desperation. A bonus is the fact that they will continue to operate long after the war.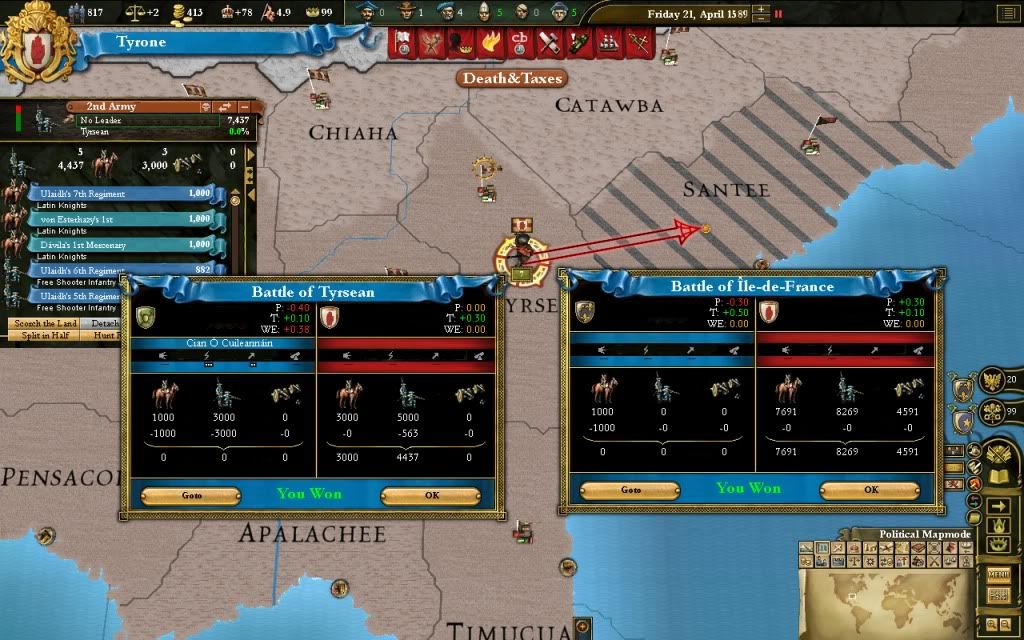 The Second army wipes out French funded Particularists in Santee. The First army continues to siege Ill-de-France and wipe out local resistance.
Einri is formally inducted with the white rod at Tullhogue. Tirlough remains in his service as an O'Neill Fliath, and his chief advisor. Shane's youngest son Art is made Tániste with the support of his mother's family, the O'Donnell clan of Tyrconnell.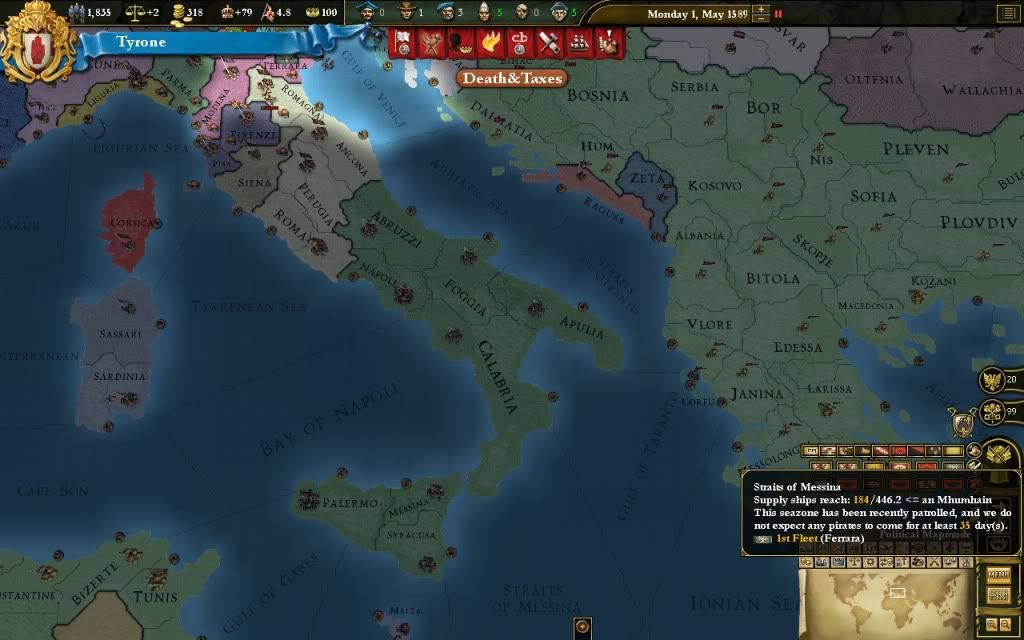 Naples finally secures the re-unification of the Kingdom of Sicily. Hopefully this will provide a powerful barrier to Papal expansion in Italy.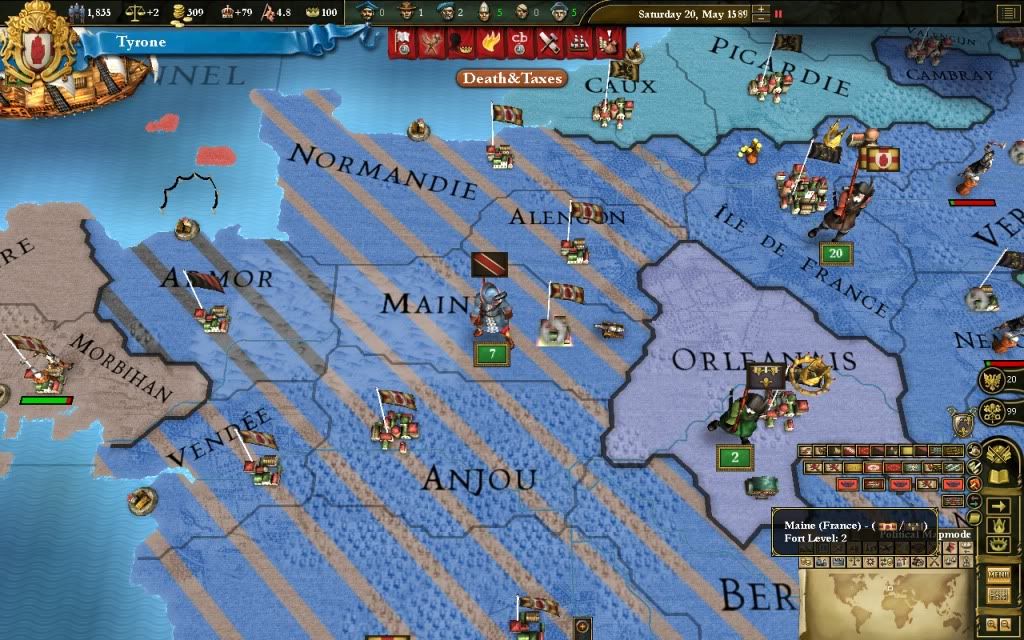 Valois spies raise revolters in Maine. Einri must return a raiding party to deal with them.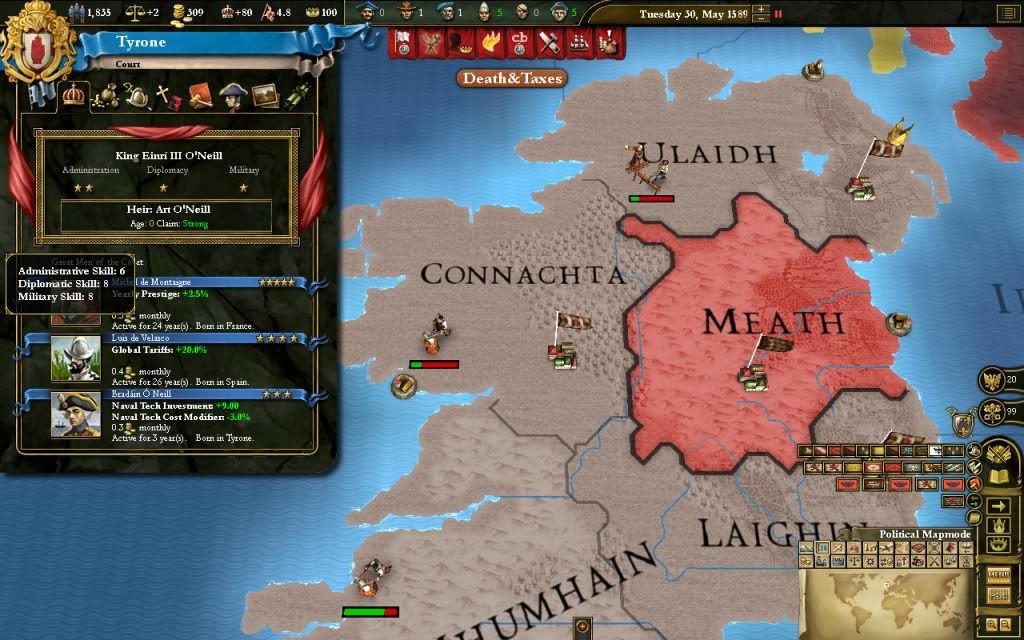 A tutor hired for young Art seems to think the child will make for an excellent leader for his nation, to the joy of many.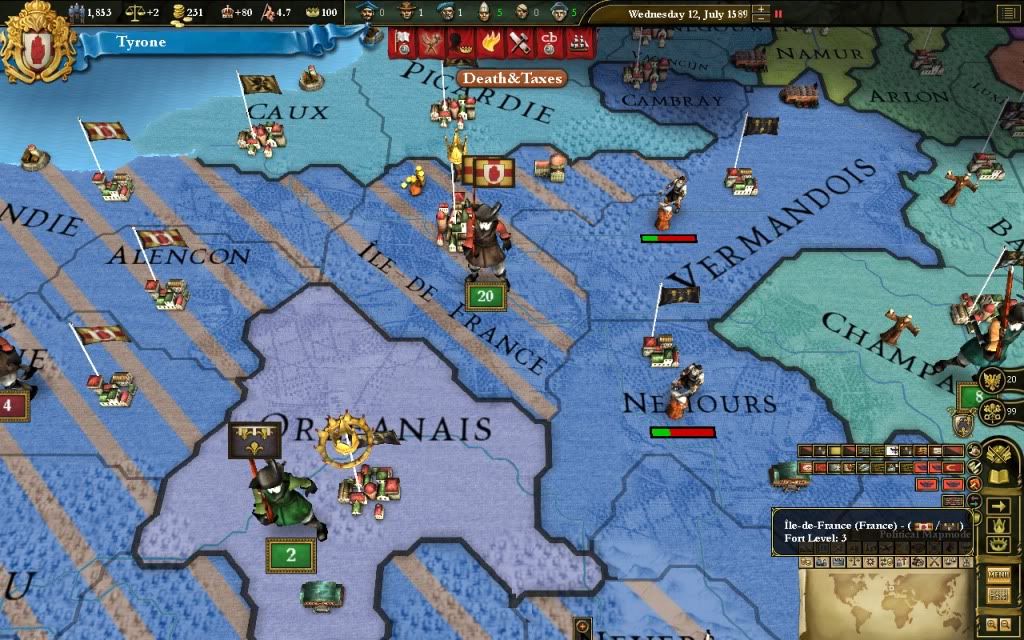 The first army finally ends the siege of Paris, with the French capital, surrender will soon follow, to the benefit of Tyrone.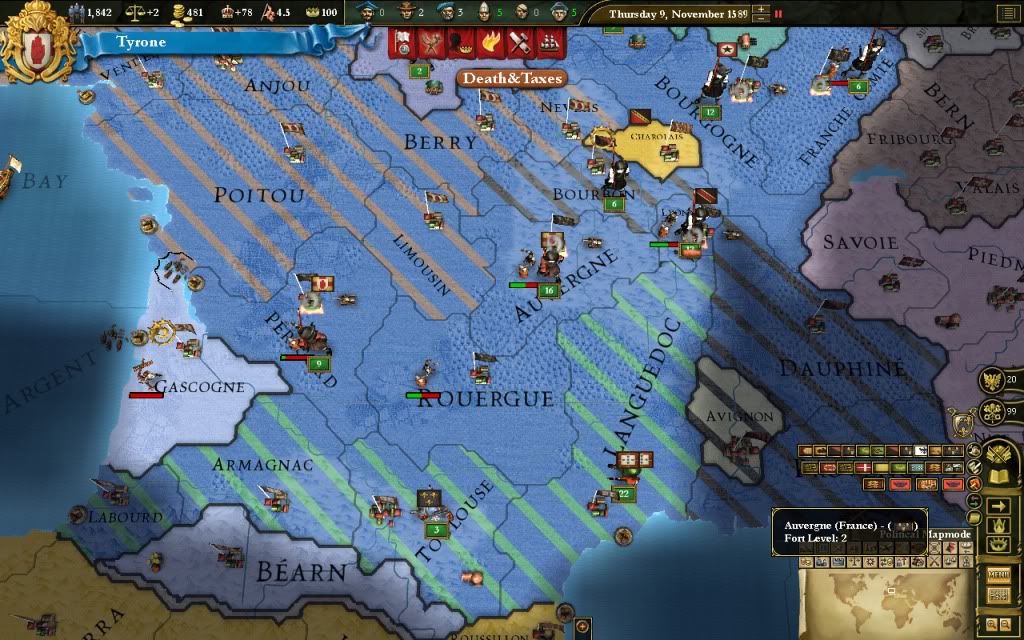 Tirlough's revolters make huge trouble for France by occupying an increasing amount of territory, this only increases the odds of a very favourable surrender deal.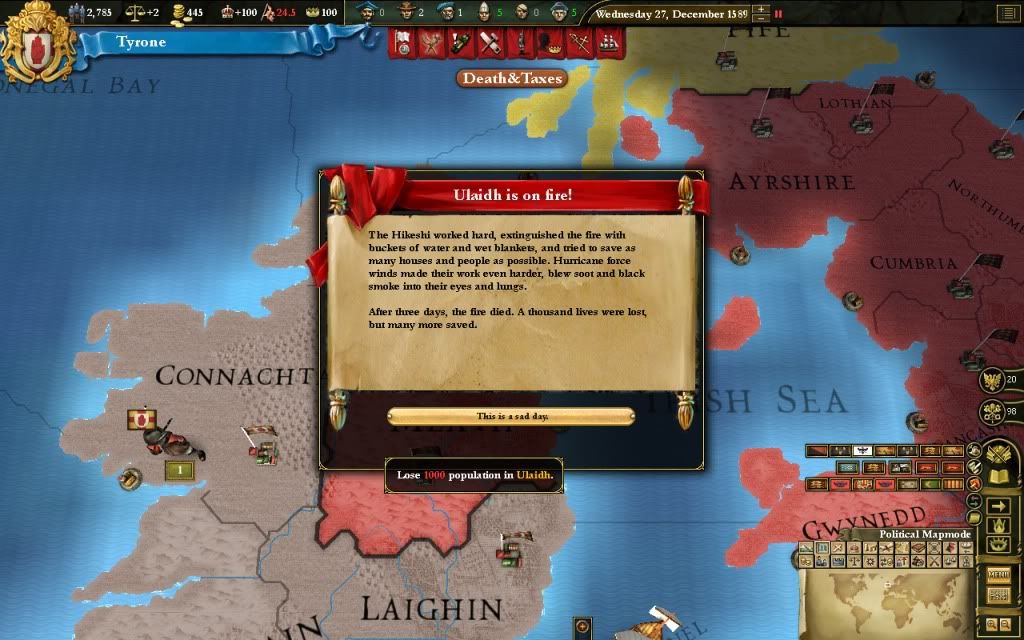 As unexpected as the Death of Shane, a huge fire breaks out in Dungannon the capital of Tyrone. 1000 people die in what will be remembered as the Great Burning of 1589.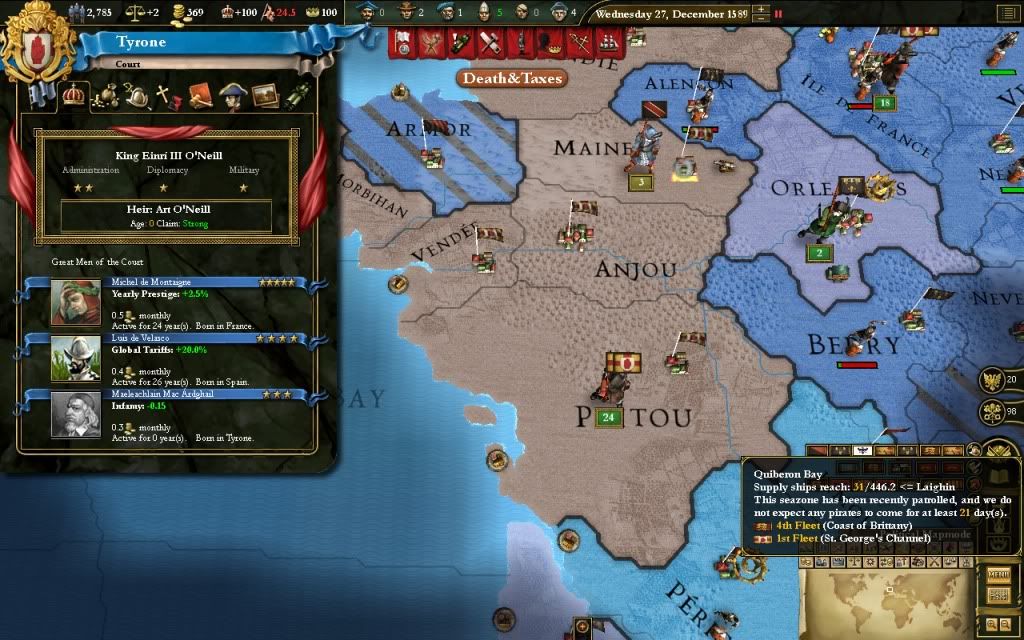 Einri finally makes peace will France and the partition begins. 1) Tyrone will gain Normandy, Vendée, Anjou, Maine and Poitou. Guyene is also released in the South as a sovereign nation under the guidance of the O'Neill court. 2) Alencon and Armor will be discussed at a later date. 3) France will make no treaties will Guyenne or Armagnac.
On Tirlough's suggestion the court of Guyenne immediately makes war with Armagnac as to increase their rightful territory. (They have cores on all their provinces)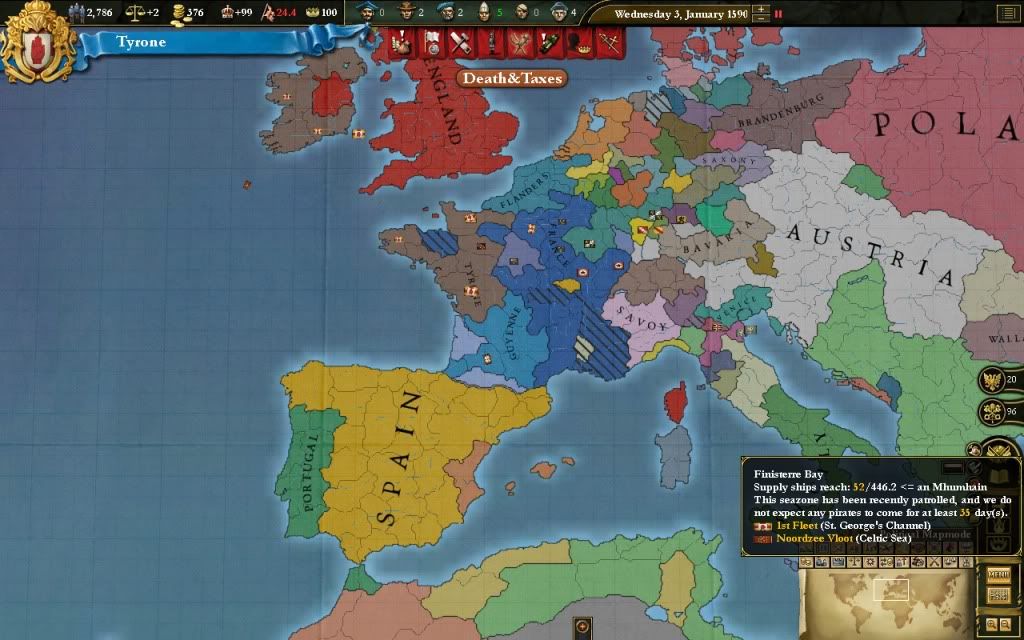 A look at France reveals a drastically weakened state, all over the now defunct issue of Spanish Succession which ruined both nations