EDIT: I got a huge response to this, much bigger than I expected. Im going to take down invites for the moment as im just spending too much time replying to pms!
Myself and BK will hopefully work on it over the next few days and get it prettied up, but the next thing on my todo list is increasing the speed.
Thanks for the interest
Hi guys,
I've been working on a simple Argos stock checker this week as a proof of concept. I'm not a web developer so its far from pretty but it does do the job.
Its seems a shame to have it fully functioning (I think!) and it not to be used.
Its way too alpha for public release but if some people want to PM me I'll send them a link to it.
Thanks to black_knight as well for some help starting off.
Thanks
Quote:
MOD EDIT / UN-NECESSARY PIMPING:
Quote:
Just a quick heads-up to say the iOS app is now available!

Argos.ie Stock Checker (removed on request of Argos / Apple!
)

This app is in early days since I wasn't to roll out a basic version to make sure Apple approved it before rolling out some of the more advanced features such as:

- flagging out-of-stock items and a push notification if that out-of-stock item comes back in stock
- validation of product information as soon as catalogue number is entered (no need to click 'Search')
- recent searches (view recent searches by all users)
- popular searches (view recent searches by all users)
- and more!

This version will be released very shortly.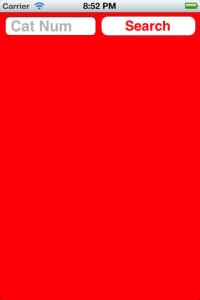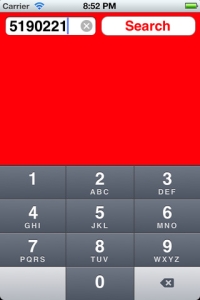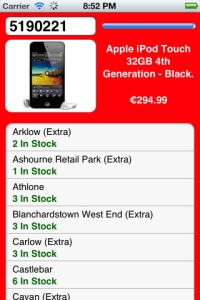 Hope witnessmenow doesn't mind me interruping his thread but no point in starting a new one for it. Spent a few hours playing around with some mobile development last night and made this!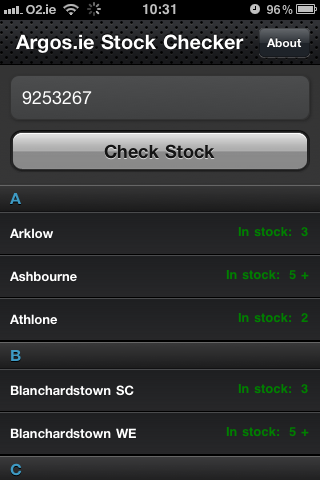 Argos Stock Checker

It's in early stages but should work on all mobile devices (although can't test all scenarios). I've it tested on an iPhone 3GS and iPad 1st Gen and it works fine.

It works best after it's loaded that you 'Add it to Home Screen' as it can then be loaded full-screen from the iPhone menu from then on.

Gonna continue development on it so keep checking it every so often - have a couple of big plans for it!