So, after starting sea fishing years ago, and doing a bit of coarse over the past few years, I decided to go try fly fishing.
Got myself a 9ft Fladen vantage flyrod, and reel, (aftma 5), something I figured would be nice and light, and not break the bank. Then I went off and got some backing, Lureflash wf6f line, and some 2 and 3lb leaders. I picked up some flies on Ebay, nothing fancy, just a selection. I loaded up the reel, looked on the interweb for all the knots, and thats as far as i got for 2 weeks...
A friend of mine promised to show me how its all done. So on monday he gives me a call, says to meet him in Maynooth at 5.30.
Packed up all the gear, and off i went. We went to Lyreen fishery just out of the town. The guy at counter put my leader loop on, picked the flies out of my box that he figured would be good, and off we went.
So on his 2nd cast of showing me, he hooks one, a nice 2 pounder, and i go off to my swim and think "hey, this looks easy
"
In the 3 hours we were there, I lost 9 or 10 flies . . snapped off, some in front of me, some behind me. They were floating around in the lake about 15ft in front of me
. So i figure Im going back too far, and swinging forward too soon. Kinda got better and better as the evening wore on, and I missed one rise. But I think I was making progress all the same.
So I headed off home happy with myself that I now know how it all goes together and what is expected.
Up bright and early the next morning I head off again. Really looking forward to it. I head around to where the wind is behind me and off I go. Not too many snapped off flies, in fact none in the first hour, and i seemed to be a lot calmer doing everything. It felt like I was gettin somewhere . . .
Lots of fish taking something on the surface, so I switched from my little black and red fly to a white moth . . and low and behold I hooked one
.
I was delirious . . I could hardly do anything I was shaking that much . . it was magic. I landed him, took a pic and set him free. Then I snapped off my first ever 'killer' fly . . . and was back to little black and red flies for the day (all the rest of the white or nearly white ones were out on the lake since the monday
). . I missed 4 more rises (think i struck too soon) . . but anyway . . I had a ball.
Going back in the morning to try again, and hopefully get a little bit better
Heres the fish . . .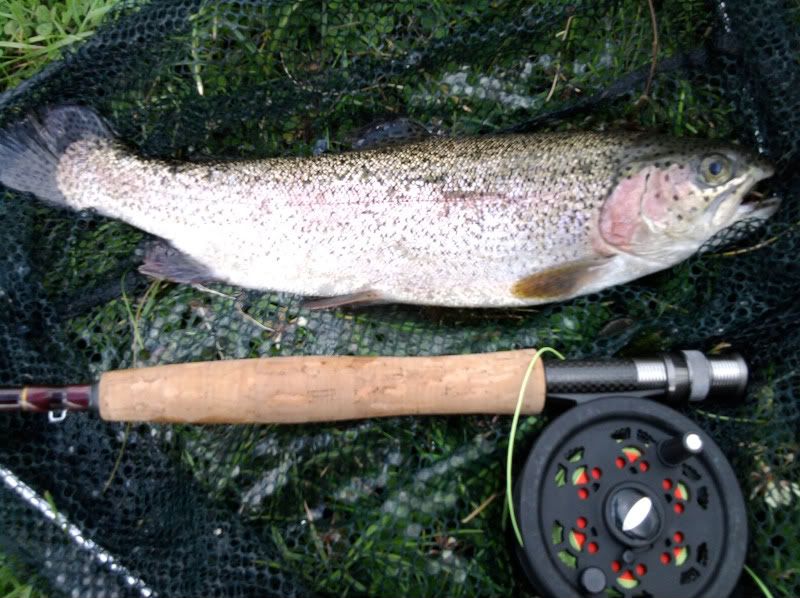 And in the landing net was this little guy