Roster:
Ric Flair
The Fabulous Freebirds
Dusty Rhodes
Demolition
Superstar Billy Graham
Jesse Ventura
Jerry Lynn
Juventud Guerrera
Christy Hemme
Joey Mercury
Titles:
World Heaveyweight title
World Tag Team titles
Cruiserweight title
Possible TV match-ups in the weeks leading up to the PPV:
Ric Flair vs. Dusty Rhodes (Non-title match)
Ric Flair & Demolition vs. Dusty Rhodes & The Fabulous Freebirds
Terry Gordy w/ Michael Hayes vs. Ax w/ Smash
Michael Hayes w/ Terry Gordy vs. Smash w/ Ax
Juventud Guerrera vs. Jerry Lynn
Jerry Lynn vs. Joey Mercury w/ Christy Hemme
Juventud Guerrera vs. Joey Mercury & Christy Hemme
Billy Graham & Demolition vs. Jesse Ventura & The Fabulous Freebirds
Ric Flair & Billy Graham vs. Dusty Rhodes & Jesse Venura
PPV Matches: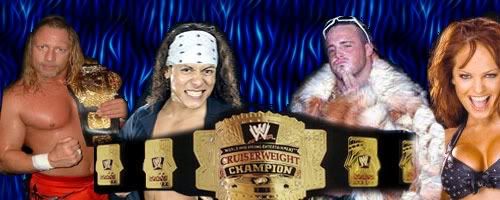 Three-way, No DQ: Cruiserweight title match
Jerry Lynn (c) vs. Juventud Guerrera vs. Joey Mercury w/ Christy Hemme


Build-up
Jerry Lynn puts his Cruiserweight title on the line when he faces Juventud Guerrera and Joey Mercury. These three competitors know each other oh too well having all been involved in some memorable matches over the past few years. But now these three men compete in a three-way, no DQ match for the Cruiserweight title, for the first time ever. Can Jerry Lynn come out of this match with the Cruiserweight title intact or will we see a new champion of Guerrera or Mercury?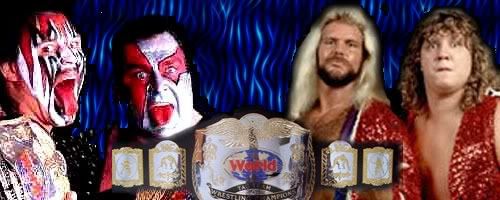 Tag team championship match:
Demolition (c) vs. The Fabulous Freebirds


Build-up
Tag team champions Demolition take on the team of Michael Hayes & Terry Gordy better known as The Fabulous Freebirds in a match for the tag team titles. After months of speculation this match finally gets the go ahead. It all started when an altercation broke out backstage between Hayes of the Fabulous Freebirds and Smash of Demolition. The two teams have fought in single matches as well as non-title matches but at the upcoming PPV, Demolition with put their tag titles on the line for the first time against Hayes and Gordy. Who will leave the match at the World Tag Team champions, tune in to find out.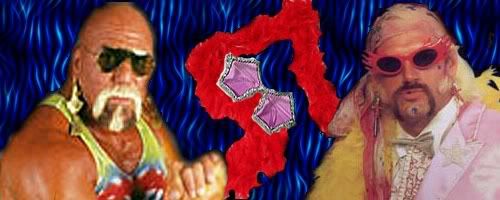 Superstar Billy Graham vs. Jesse 'The Body' Ventura


Build-up:
It is a known fact that Jesse 'The Body' Ventura modelled his wrestling persona on Superstar Billy Graham. Now it's a case of original vs. copy as Graham and Ventura face off in a match to determine who really is the most flamboyant wrestler. Who will have to sacrifice the lifeblood of being an in-ring superstar - their image. The careers of these competitors are on the line, but who will be victorious?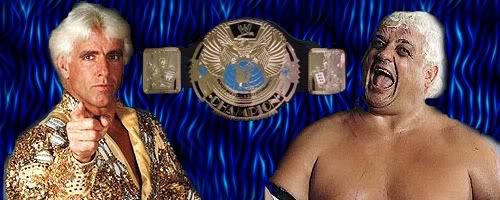 World title match:
Ric Flair (c) vs. Dusty Rhodes


Build-up:
Dusty Rhodes challenged Champion, Ric Flair, to this match after Dusty turned his back on his former friend & tag partner just three months ago after Flair had won the World title. Flair and Rhodes had been the top team in the business, having won tag team champions three times and holding onto them for eight months in their last reign, only for Dusty to cut all ties with Flair as he believed he was holding him back in his career. The two legends of wrestling battle it out in a match for the World title at the upcoming PPV, which is sure to keep you on the edge of your seats.
Backstage:
As well as being Joey Mercury's valet and competing in few wrestling matches, Christy Hemme conducts interviews backstage. Expect to see Christy interviewing most of the competitors before they enter the ring in what should be a night of great match-ups.
Strengths:
-Big draw for the likes of Flair & Rhodes
-Good number of cruiserweights on the roster
-Promos- Flair, Rhodes, Graham and Ventura all of which have been known to cut great promos
-Good enough mixture of faces and heels
Weaknesses
-Lack of females on the roster. If I had more picks I would have certainly added another female to build a women's division.
Summary
A roster that has a mixture of big names and cruiserweights, big talkers, big teams and spectacular matches. It mixes some of the greats of yesteryear and well known names around today. Never before has a PPV brought these superstars together under the same roof. Much in on stake, from titles to gimmicks, from pride to respect. All in all it is sure to be an entertaining show.
Thanks MNG