Quote:
Originally Posted by
Tetrapanax
I really would never have believed in this, as a professional scientist, rational sceptic, until I saw what I now know to be a black puma perhaps 100 metres away from me on my Dad's farm in Laois.

I was out walking my dog in a quiet beet field when I saw the cat. I instantly recognised that this was a large cat, despite there not being much to scale it too. The wide head, rounded ears, long curved thick tail, wide set shoulders etc. Also the way it ran and leapt into the hedgerow as it saw me, and the height with which it was able to leap into the ditch. My dog would usually run after a cat, but was obviously terrified.

Having just finished my final uni exams, I was first worried about my mental health, as a single sighting would to me suggest more that I've lost the plot rather than there existing phantom cats. It came as a great relief to me a few month later when my Dad rang me to tell me he'd seen it, and perhaps a couple of months later, during the harvest, when the crops were first cut, my uncle ran home and was almost dizzy with fear after seeing a very large black cat. My uncle had not known about this before, as myself and my Dad had kept it quiet, as we did not want the authorities to hunt it down, or indeed for people to think we were both cracked.

I find the phenomenon of phantom cats really strange. I cannot offer an explanation of why there has never been proper photographic evidence or concrete proof of their existence, and I really wouldn't judge or blame anyone for disbelieving someone like me on the internet. I'm even wary of telling people about it TBH. But for what it's worth (and perhaps that's not a lot), I'm certain I saw a black cat at least as large as a large fox in the laois countryside around 2009, I'm 90% sure it was a black puma, and myself and my Dad simply know this creature to have existed, but have no way of proving it.

The three sightings were within a few months of each other in 2009, and the cat has not been seen since.

I don't care who believes me, and I'm not interested in discussing theories about optical illusions or hallucinations, as I'm pretty certain this was neither.
Do you think it may have been a melanistic serval? Servals are sometimes kept as pets- really not recommended, tho- or kept in captivity to create hybrids with house cats.
Melanistic servals are not that uncommon, and they would be within the size range of foxes-domestic dogs (the largest being about the size of a German shepherd, although not as heavy).
(Point against this idea, you say it had a long tail and the serval has a relatively short tail... )
Then there's also the jungle cat, which can be melanistic as well and is about fox-sized too.
The Jungle cat can also be mixed with the house cat and the resulting hybrid is called a Chausie (from the scientific name of the jungle cat, Felis chaus), and is often twice the size of your ordinary house cat. It comes in dark colors:
Here you can see the size of a chausie cat: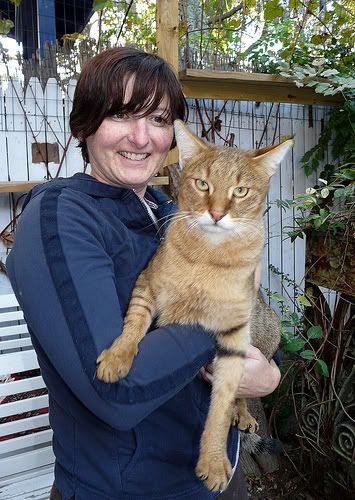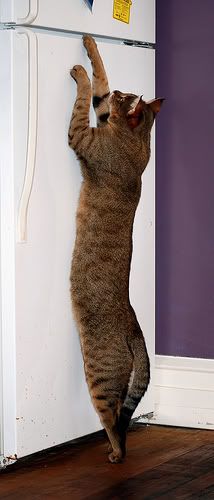 I can totally see a black jungle cat or, more likely, a dark colored chausie being mistaken for a small cougar, especially if its a fleeting sight or during nightime/twilight.

Just thinking of possibilities...