Or...if you prefer good ol' fashioned text:
Strap on your crash helmet and padding; you are going to face plant, break some bones and come crawling back for more in the Xbox Live Arcade release of Trials Evolution. For those somehow unfamiliar with the Trials series, it is a collection of challenging, obstacle-riddled tracks which you must complete on your motocross bike with as few faults as possible.
Trials Evolution packs shiny new graphics and the maps have been made more dynamic than ever. There is no shortage of pyrotechnics as pieces of levels explode, break apart and change as players progress through the level. When players finish, there is often a big explosive send off for the rider as bombs drop, shipment containers fall or the rider simply slams into stacked debris. RedLynx has outdone itself in this regard with some fantastic and diverse level design. Some, including the fantastic Limbo-themed level, contain nods towards other indie titles and pop-culture references which is always a nice touch. The levels will test and challenge veterans of the series, but still accommodate for the newcomer. Simply completing some levels is a reward in itself, but there is always a new goal set by the game, by friends or by the online leaderboard.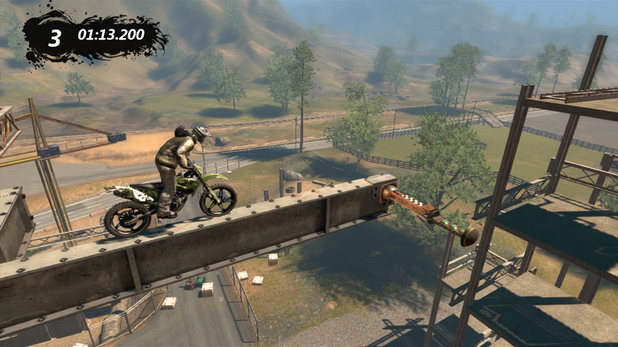 There are some moments where it seems like the game goes out of its way to be challenging. Some landings are shrouded in shadow or blocked by pillars and debris, and there are platforms that will change between the time players first see them and actually attempt the jump or landing. The old expression "slow and steady wins the race" can be thrown out the window because, while a perfect run is regarded highly by the game, certain jumps and sections require momentum. All of these factors mean that a trial and error approach is required at times, which is an artificial way of extending a title that can otherwise easily pull people back.
As long as you can earn enough medals, in any way at all, it is possible to unlock the next event and new challenges. Thankfully this means that overly challenging levels can be skipped until players feel they can tackle it with renewed vigour. RedLynx has also made it possible to scour the online leaderboard to view replays, which may help players to get past tricky parts. Unfortunately, the in-game ghosts are no more than dots which tell you where a rider is, but the replay option more than makes up for this with its breakdown of throttle or brake as well as the ability to enter slow motion for greater analysis.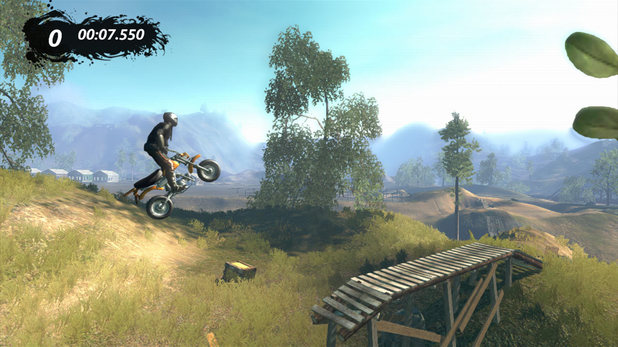 Once again, the additional side skill games return, but they seem to show off the potential of the in-game editor more than act as a side distraction. The games are an eccentric bunch which have players testing their skills without fuel or without brakes, or put other qualities to the test as players land UFOs or play a Splosion Man clone. A handful of them will certainly be replayed, but they don't hold the same draw as throwing a rider down a set of stairs to teach them a lesson.
Traditional multiplayer is the big new addition to Trials Evolution. The local side of things is a blast as up to four players rampage along a series of tracks and compete for the victory. A variety of tracks can be chosen as part of a tournament, which ensures that bragging rights are always at stake and players can continue to build or sustain rivalries. The action is fast and frantic and this allows players to hop straight into another tournament, which is the inevitable outcome of finishing one. Races are kept competitive because when players crash or drop too far back, they lose a point for the fault but get reset at the next checkpoint. This means that even the most unsteady rider could win from the last checkpoint and lessen the damage done by fault points. The multiplayer is easy to get into and even newer players will be able to compete after a handful of races. Unfortunately, there is a limited track selection and very few are that challenging, which means you'll be replaying the same tracks a lot.
So far, the online multiplayer has been a disappointment. It takes a long time to find a match which really takes away from the experience. While it is possible to rematch when the tournament is done and dusted, I have found myself back at the searching screen once again. This is where the quick and frantic side of Trials gets exposed as a negative because players spend so much more time searching than actually playing online.
Trials Evolution as a stand-alone title is excellent, but it is always going to be compared to its older sibling, Trials HD. When the word "Evolution" is mentioned, many would conjure the image of humans evolving from apes. The problem is that Trials HD was so good that Trials Evolution feels like the evolution of an ape to a slightly bigger and prettier ape. The graphics are shinier, the levels are more dynamic and the level editor is a pastime in itself, but it stands alongside the superb Trials HD rather than overshadows it. Trials Evolution is a steal at 1200 points because there is so much content and play time contained within…just don't tell RedLynx that.