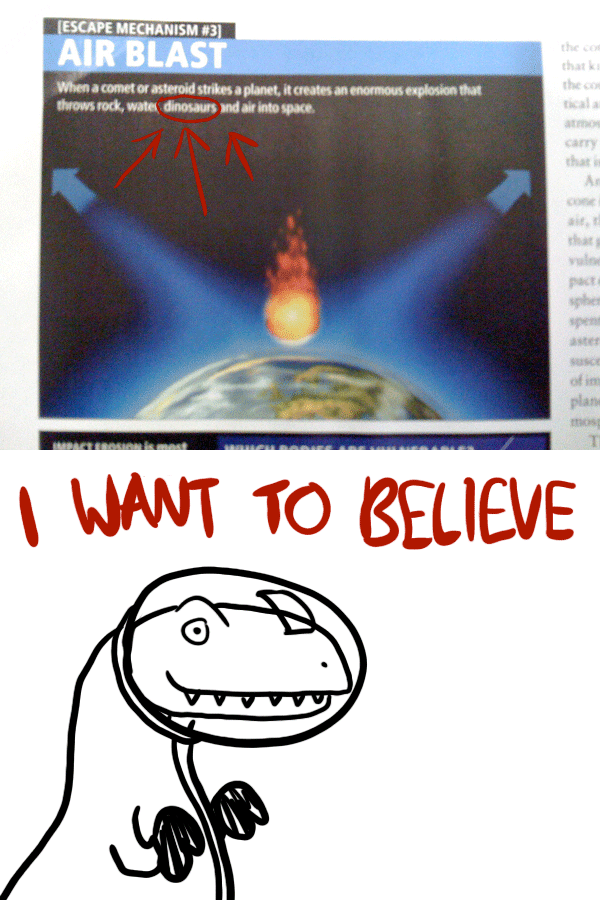 http://www.theregister.co.uk/2012/04...ien_dinosaurs/
Quote:
Rather than dying out in the dimly lit aftermath of a ginormous asteroid impact, dinosaurs on Earth may have instead spread to other planets and built a terrifying space-conquering empire.
...

On the question of just why other planets may be inhabited by our dinosaurs, a second paper published last week in the Cornell Earth and Planetary Astrophysics Journal suggests the trillion-ton meteorite impact that killed the dinosaurs 65 million years ago may have blasted off small bits of dinosaur DNA out into space. And quite a lot of those bits of dino-carrying rock will have landed on amenable planets, say the paper's authors.

The Cornell boffins have worked out what quantities of Earth matter would have been kicked out by the force of the impact and where that matter landed. They estimate that bits of Earth matter will have headed into the red dwarf Gliese 581 system some 20 light years away, which is thought to have a super-Earth orbiting at the edge of its habitable zone.